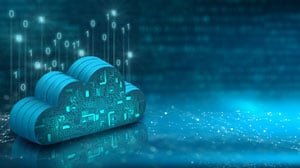 (January 27, 2022) Conventional on-premises hardware firewalls have served as essential network gatekeepers for decades, but they aren't entirely suitable for today's increasingly decentralized environment. Organizations are relying more on cloud-based applications and services to support remote and mobile workers. Cloud firewalls address the security challenges of a hybrid IT infrastructure.
Businesses today may have dozens or even hundreds of individual firewalls — often from multiple vendors — with thousands of different firewall rules. This creates a complex environment with significant management challenges. IT staff must implement and maintain a variety of security policies, rules, and configurations for each device. Over time, misconfigurations, policy conflicts, and unapplied updates can create security holes.
Streamlined Security
In a recent survey of 350 IT security pros at the RSA Cybersecurity Conference, 52 percent reported instances in which configuration changes created vulnerabilities that led to business downtime. A Barracuda Labs study of small and midsized businesses (SMBs) found that 80 percent don't know what all of their firewall rules do, and 55 percent have had a security gap because of a misconfigured firewall rule.
Firewall vendors have met this challenge by incorporating centralized management tools into their product lines. Centralized management allows firewall administrators to efficiently audit the configurations of many devices, view the health status of each device, and ensure new rules are applied consistently. This approach saves time and minimizes the potential for misconfigurations between devices.
Cloud firewalls, also known as virtual firewalls, offer a streamlined, secure, and cost-effective approach for organizations looking to secure their hybrid IT environments. These cloud-deployed software solutions filter traffic moving between cloud platforms, virtual networks, and remote users. Because they run on the cloud service provider's infrastructure along with your applications and data, traffic doesn't need to be funneled through an on-premises hardware device, which helps eliminate network choke points.
Enhancing Cloud Security
Securing cloud deployments is the leading use case for cloud firewalls. In a recent IDC survey, 98 percent of companies said they had experienced at least one cloud data breach within the previous 18 months, with two-thirds reporting three or more such incidents. Many of these incidents stem from confusion about the cloud's shared responsibility model — providers commit to securing their cloud infrastructure but customers must protect their own virtual networks, applications, and data within the cloud.
Cloud firewalls support customer security obligations by providing all the familiar security features of conventional hardware-based solutions. In addition to intrusion prevention, gateway antivirus, application control, and URL filtering, many include more advanced services for protecting against evolving ransomware threats, denial-of-service attacks, and data breaches.
Segmentation Support
Leading solutions further enhance security by supporting segmentation strategies that isolate critical applications and data in secure segments to block the lateral movement of threats. In the event of a breach or infection, segmentation can contain the damage to a single virtual network segment or subnetwork. Segmentation is a core element of zero-trust security and is often required for compliance with government and industry regulations.
Improved management is another major benefit of cloud firewalls. Management platforms accessed through a web interface or API allow administrators to automate firewall provisioning and configuration, which reduces the management burden, improves scalability, and limits the risk of manual configuration errors that could create vulnerabilities.
Firewalls are critical elements of any company's network security, but increasingly decentralized computing environments create problems for conventional on-premises hardware solutions. The latest cloud firewalls offer the enhanced security, increased automation, and streamlined management needed to support today's networking requirements. Contact us to discuss how a managed firewall solution can strengthen your organization's security.
ABOUT MAINSTREAM TECHNOLOGIES
Mainstream Technologies delivers a full range of technology services in Arkansas and the surrounding region including managed technology services and consulting, custom software development, and cybersecurity services. We also offer industry-leading data center services in our Little Rock facilities. Established in 1996, Mainstream has earned a reputation for delivering quality, reliable, and professional technology services for public and private-sector customers across the United States.
Jeff Pracht
IT Business Development Manager
(479) 715-8629 Office
(501) 529-0008 Mobile