CONSULTING | MANAGEMENT | COMPLIANCE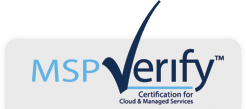 Since 2010, Mainstream Technologies has been a certified provider.
Put our Managed Security Service Provider (MSSP) experience to work for you.
Identify your assets and the relevant threats putting your organization at risk.
Complimentary External Vulnerability Assessment
Would you like insights into how the outside world can access your systems?
Are there entry points into your network that you aren't aware of?
Let Mainstream perform a complementary external IP scan and assessment to see if there are gaps in your defenses. We will provide a full report of our findings to you at no charge or obligation.
Cybersecurity Services Resources
Social Engineering: Why Humans Are the Weakest Link in the Security Chain
(May 31, 2023) Most cyberattacks require little more skill than the ability to dupe users into divulging their login credentials or other person…