The cloud needs managed services because cloud applications and services won't manage themselves.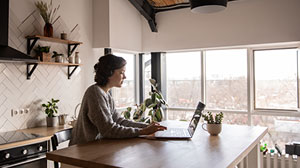 (September 20, 2021) Many organizations are stepping up their adoption of cloud applications and services to facilitate work-from-home models. The cloud makes it easier for remote workers to access the IT resources they need to do their jobs." Cloud applications and services won't manage themselves, which is why the cloud needs managed services.
"The cloud also makes it possible to reduce capital expenditures in IT infrastructure while gaining access to advanced technology solutions. Cloud-based services can often be implemented faster than on-premises IT infrastructure and provides an 'always-on' environment that better meets today's business requirements," said Mark McClelland, co-founder and vice president of Mainstream Technologies.
"That doesn't mean that the cloud is a silver bullet that cures all business technology ills. Among the top challenges associated with cloud adoption are security, regulatory compliance, and controlling cloud spending."
According to the Flexera 2020 State of the Cloud Report, 93 percent of organizations are using multiple public and private clouds. Small to midsize businesses (SMBs) are running 70 percent of their IT workloads and storing 62 percent of their data in the public cloud — more than the average enterprise.
However, 77 percent of respondents said they lacked the resources and expertise to overcome these challenges. A managed services provider (MSP) can help organizations close this skills gap and gain greater control over their cloud environment.
Cloud Management Challenges
Of the SMBs that responded to a question regarding the impact of COVID-19 on their cloud plans, 50 percent said they expected their cloud usage to increase slightly or significantly. However, the pandemic has not changed the realities of the cloud.
First, organizations can't move every application to the cloud. In many cases, applications will need to remain onsite for security and regulatory compliance purposes. Additionally, legacy applications may not perform well in the public cloud, and mission-critical workloads may experience unacceptable latency. IT staff must continue to maintain on-premises infrastructure.
The applications in the cloud won't manage themselves which is why the cloud needs managed services. Someone needs to keep an eye on cloud services to ensure that they are performing optimally and meeting budgetary targets. However, cloud skillsets are in high demand, making it difficult for organizations to find and retain the talent they need.
Additionally, most organizations are using multiple clouds to avoid vendor lock-in and more precisely match features and capabilities to workload requirements. The multi-cloud model increases complexity and requires IT to monitor and manage multiple platforms and interfaces.
The Data Protection Conundrum
Security continues to be the No. 1 cloud challenge, cited by 83 percent of respondents to the Flexera survey. Although cloud infrastructure is generally more secure than onsite IT environments, the cloud operates under a "shared responsibility" model in which customers remain accountable for various aspects of cloud management.
"Customers are responsible for the security of their data and ensuring that only authorized users have access to cloud resources," McClelland said. In an Infrastructure-as-a-Service model, the onus is on the customer to configure services correctly and perform many administrative tasks.
Cloud backup is especially important. Some cloud services include limited data protection features, such as the ability to recover files and emails that have recently been deleted. These capabilities are not intended to serve as a backup solution, however.
"Customers often learn the hard way that a cloud provider cannot recover data that has been lost or overwritten," McClelland said. "An estimated one-third of customers experience data loss in the cloud, and most of these incidents are related to the customer's responsibilities."
How an MSP Can Help
An MSP can serve as an invaluable resource to help organizations overcome these challenges and optimize their cloud investments. Serving as a management tier between the organization and the cloud, an MSP can help determine what should be moved to the cloud, assist with cloud deployments, and ensure proper control over cloud applications and services.
"By partnering with an MSP, organizations gain 24×7 engineering and operational support to augment in-house personnel," McClelland said. "The MSP will have multiple resources with the right expertise and experience to hit the ground running. Best-in-class MSPs will manage onsite and cloud resources holistically to ensure that business requirements are met."
Proven methodologies and well-defined processes for engagement ensure that proactive management tasks are performed on schedule and issues are resolved quickly. The right partner can help organizations maintain or even improve service levels while streamlining IT operations.
Many organizations lack the in-house resources to monitor and manage a complex, hybrid IT environment. An MSP relieves much of that burden and helps to optimize the entire environment, including the cloud.
Jeff Pracht
IT Business Development Manager
(479) 715-8629 Office
(501) 529-0008 Mobile