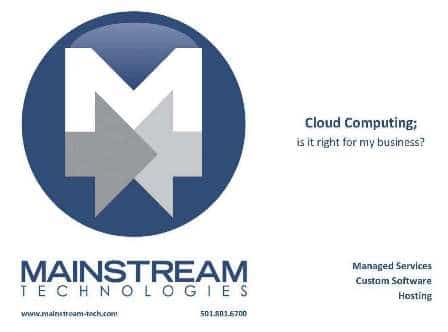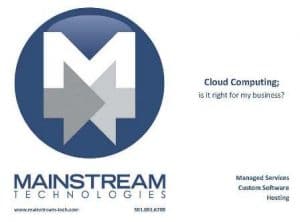 Is cloud storage right for my business?
There's discussion in the business community about the viability of Cloud computing, a style of computing in which software and applications are provided as a service over the Internet.  This discussion is becoming more and more prevalent because early adopters have benefited in a variety of ways from the technology.  Cloud computing can offer significant savings while in some cases increasing data security significantly over owning and operating an infrastructure.  The question being asked is, "Does it make sense for my business?"
Cloud computing poses the potential of becoming a commodity and eventually viewed as a utility just as electricity and water are today.
So why is the Cloud a viable option now?  There are six primary reasons why businesses have adopted Cloud computing.
1. Mobility – The Cloud gives employees the ability to access their data securely anytime and anywhere.
2. Flexibility – Using the Cloud for IaaS (Infrastructure as a Service) offers virtually unlimited and flexible resources and is very affordable. The Cloud provides the ability to expand or contract computing power and/or data storage capacity on a pay as you go basis.  Power and capacity can be expanded for short term needs and then be reduced when the need(s) expire.
3. Stability – What happens if power is lost in the office today?  How much does it cost to have these resources dedicated for supporting an IT infrastructure on premise (electricity, real estate, security, cooling, staffing)?  By putting an IT infrastructure in a qualified Data Center, the risk of downtime is significantly reduced since there are dedicated resources in place to keep the infrastructure running.
4. Rapid deployment – Is there a need for test environments or the need to bring up new applications quickly? If a new application is being considered, a new server can be spun up and Internet service installed in hours rather than days or weeks without any capital outlay.
5. Collaboration – Is there a need to collaborate with outside vendors, customers or even with a geographically dispersed workforce?   Cloud storage allows an organization to save files locally to any device and have that information replicated to the Cloud.   These files can then be shared with any authorized user with the appropriate permission levels.  Now there is no need to email documents and versioning control of these documents is more easily managed.  The Cloud also eliminates the need to manage an FTP site.
6. Disaster Recovery and Business Continuity – Is the business able to withstand an outage caused by an application failure, attack or structure loss? How much time will it take to rebuild an IT infrastructure and restore data in the event of an outage?  Using quality back up tools and placing data offsite will secure it against loss.  This data can be restored in a few days or even a few hours.
The Cloud may make sense for your business or it may not.  It all depends on the business needs.  The first two questions to ask are; "how much computing and storage capacity is needed in the short and near term and how much does it cost now to provide IT services to your business now (total cost of ownership)?"  Once you have this information you can begin to answer the question "do I want to continue to build, support and manage the IT infrastructure or do I want to outsource it?"
Also, using the Cloud is NOT an all or nothing proposition.  We commonly receive inquiries from organizations who want to keep their data in house, but also want to use the Cloud as an offsite data backup solution.  On a personal basis, have you ever used "Drop box" or "Google Docs" as a backup strategy for your home computer?  It's the same idea.  Using the Cloud for data storage is a reliable way to make sure your data is backed up and secure off site.
We even have clients who've evolved beyond offsite data storage and leverage the Cloud and virtual technologies as components of their business continuity strategy.  If their primary internal infrastructure ever fails they have the ability to swing everything over to their Cloud infrastructure and restore operations in a matter of hours.
Key Point – If you're at the point of replacing a server or servers, it's worth the time to run an analysis of the total cost of ownership to upgrade and support your existing equipment.  Then compare this cost with what you could get from a reputable Cloud provider both in services and capacity.
We encourage all of our clients to carefully evaluate their options.   Run the numbers.  Evaluate the risks/benefits of both options and let the results fall where they may.
Cost elements to consider in this evaluation are physical space, electrical service, security, manpower, bandwidth, hardware/software, physical maintenance and ongoing technical support costs.
With this in mind, let's step back and look at the perceived risks of outsourcing your applications and data to the Cloud.
Risk #1:  If you use the Cloud, you will rely on your internet service provider for access. 
That is correct.  If they fail, then you're dead in the water regardless of whether you're using the Cloud for backup/business continuity or using it for primary operations.  This can be mitigated by installing a redundant ISP.
Risk#2: Is my data secure in the Cloud?
Not all Cloud providers are equal, nor do they treat security in the same way.  Your security concerns can be addressed by asking the right questions and getting the right answers in writing.
What physical security measures do they take?
What are their backup strategies? And how often?
What measures do they employ to prevent malicious intrusions?
Hacking
Viruses
Firewalls
Spam filters
Is HIPAA or PCI Compliance support required?
If the potential provider is local, we highly recommend a visit to their facility.  There's nothing like seeing it for yourself.  In most cases data security is improved hosting in a facility specifically designed for that purpose.
Risk #3:  When an employee leaves, will company data remain secure?
Using the Cloud as a primary infrastructure gives you the ability to centrally control access to data and applications.
Risk #4:  If I outsource to the Cloud, do I become captive to my provider?
No!  Your data is always yours.  You're simply renting space for your data, just like you would rent an apartment.  If you have issues with your landlord, you simply find another apartment and move your belongings to the new address.  The trick is finding a reputable Cloud provider who provides you with an understandable agreement.
Now that we have addressed the risks, what are the benefits of Cloud technologies?
1. Health – The headaches and high blood pressure you had managing your own technology goes away.
2. Cost control – helps you manage the expenses of growing amounts of data
3. Speed to market – Since the infrastructure is outsourced, if additional capacity is required, place a call to the provider, authorize the deal and you're operational.  There's no need for additional in house hardware.
4. Flexibility – Infrastructure capacity can be expanded or contracted as the business needs change.  Also, since there is centralized management, access can be granted or withdrawn on an individual basis to applications or data at any time.
5. Securely promote internal and external communications –  Once again you can grant or withdraw access to anyone at anytime
Now that we've walked you through the risks and benefits, how does one knowledgeably evaluate their Cloud options?
As we've mentioned before one of the optimal times to review your IT costs is when there is the need to replace existing servers or another opportune time is when there is the need to install new applications to support the business.  A review of the total cost of ownership compared to your Cloud options will be your measuring stick.
How do you properly evaluate your Cloud options?  The Cloud is a different world.  We strongly recommend you tap into a reliable resource or partner in the field.  If they are up to speed about the current state of technology, they should be able to help you identify the best options.  If you don't have direct access to a technologist, you should consider retaining an IT consultant, whose only incentive is to recommend best practices.
Considering the Cloud begs the question, "Are you willing to think differently?"  The Cloud requires you think in terms of entering an operating agreement to provide IT services rather than a capital contract for procurement.
In summary, the Cloud may or may not make sense for your business.  Our recommendation is when you see a decision in the future regarding IT infrastructure, you take the opportunity to actively review your operations and how well it's supporting your business now.  Cultivate a technology resource so they can keep their eyes on the advances in the industry.  You never know, there may be some answers out there that will accelerate your business processes and positively affect the bottom line.