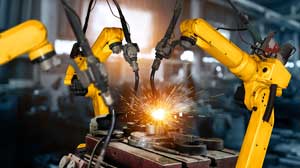 (November 30, 2021) Ransomware, phishing, denial-of-service attacks, credential stuffing — the list of potential cyberattacks just continues to grow. According to a study by the University of Maryland, Internet-connected systems experience an attempted cyberattack every 39 seconds. That's more than 2,200 attacks daily.
No security tool can defend against all forms of attack, and various security products have different strengths and limitations. That's why a layered security architecture offers the strongest protection from cyber threats.
A layered security architecture is based on the notion that the whole is many times stronger than the sum of its parts. In other words, the synchronization of multiple security measures produces a stronger effect than if those components are working individually.
Perimeter Defenses
The first step is to prevent malicious traffic from ever entering the network. Perimeter defense starts with a firewall, which can be delivered through software, a hardware appliance, or a combination of the two. The firewall forms a barrier between two or more networks and controls who can access information behind the barrier and how they can access it.
Intrusion prevention systems (IPSs) supplement firewalls by continuously monitoring for suspicious activity and actively reporting or blocking it. IPSs are more advanced than intrusion detection systems that can only issue alerts. These tools typically sit just inside the firewall, analyzing and capturing suspicious packets. IPSs may also be included in next-generation firewalls (NGFWs) or unified threat management (UTM) solutions.
In a layered security approach, antivirus software is installed not just on endpoint devices but also at the network perimeter. Organizations must also take steps to secure traffic that is reaching users and applications. Web application firewalls, spam filters, content filtering tools, and related solutions help ensure that application traffic is clean.
Controlling Access, Protecting Data
Authentication and authorization software establishes the identity of a network user and defines where that user can and cannot go on the network. Authentication is traditionally accomplished with username and password combinations but should be augmented by multifactor authentication. In the authorization phase, the software will determine what applications, data, and other resources the authenticated user can access.
Encryption is another important element of layered security. Confidential data at rest or in transit is at risk if left unprotected. Strong encryption algorithms prevent data from being read without the decryption key. Data loss prevention tools can scan outgoing emails and require that sensitive information be encrypted before it is sent.
Email and Endpoints
Most malware is distributed via email, and can quickly spread if a user opens a malicious attachment or clicks a malicious link. Organizations need an email security solution that prevents spam and malware from reaching the user's inbox. But email security doesn't stop there. Advanced tools can also detect and block fake emails and hijacked email accounts, a key source of phishing attacks.
The latest endpoint security solutions protect user devices from malware, going beyond point-in-time scans to provide continuous monitoring that actively scans in the background. These solutions may also require devices to meet minimum security standards before connecting to the corporate network.
In light of that, a layered security infrastructure must be closely aligned with the organization's security policy, which defines what rules are to be imposed and applies those rules to all users and resources. Best-in-class security solutions incorporate policy management tools that allow an organization to define, distribute, enforce and audit security policies consistently across the enterprise.
No single security device can provide adequate defense against constantly evolving threats. Addressing all aspects of security through a layered security approach can significantly reduce the risk of attacks.
ABOUT MAINSTREAM TECHNOLOGIES
Mainstream Technologies delivers a full range of technology services in Arkansas and the surrounding region including managed technology services and consulting, custom software development, and cybersecurity services. We also offer industry-leading data center services in our Little Rock facilities. Established in 1996, Mainstream has earned a reputation for delivering quality, reliable, and professional technology services for public and private-sector customers across the United States.
Jeff Pracht
IT Business Development Manager
(479) 715-8629 Office
(501) 529-0008 Mobile