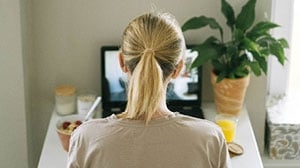 (January 21, 2022) Many in-house IT teams are feeling the strain of supporting work-from-home users. In one recent study, almost 80 percent of IT pros said that remote support requirements are forcing them to work longer hours. More than half said they're considering a career change due to burnout.
Co-managed IT services can help relieve the burden of remote support. In a co-managed IT arrangement, organizations partner with a managed services provider (MSP) to offload some of the tasks performed by in-house IT staff. Remote support is a natural fit.
Qualified MSPs have well-established methodologies for delivering remote support services to customers. They understand distributed networks and have invested in industry-leading monitoring and management platforms. They have the expertise to handle diverse support requirements, and the staff resources to respond quickly to user requests. This helps ensure that remote workers stay productive while enabling in-house IT teams to focus on other tasks and initiatives.
Filling Resource Gaps
Co-managed IT services are ideal for organizations that are large enough to have some full-time IT staff but lack the resources and skills needed to meet growing business and user demands. The in-house IT team works in partnership with the MSP, directing projects and ensuring that the MSP's services meet operational requirements.
Organizations with multiple sites, and those with remote workers in different geographies and time zones, can especially benefit from co-managed IT. The MSP can provide "follow the sun" support services, ensuring that all users remain productive.
Perhaps most importantly, a co-managed arrangement can improve the morale of in-house IT staff. They are relieved of many day-to-day administrative troubleshooting tasks, enabling them to use their skills in more rewarding ways. There's less pressure and more of a chance to make an impact on the company's operations, resulting in greater job satisfaction and decreased turnover.
Reducing Risk
A key value of co-managed IT is flexibility. Although user support is often outsourced to the MSP, it's only one of many ways to structure the relationship. The MSP could take on monitoring, maintenance, and management of core IT infrastructure to ensure a stable, secure, and high-performing environment. The MSP will provide ready access to engineers and technicians with the skills needed to support the latest technologies, with consistent coverage that never takes a sick day or vacation.
The MSP can ensure that operating system and applications updates are kept up-to-date and that any security threats are promptly investigated. This is especially important given the large number of endpoints that now operate outside the secure network perimeter.
What's more, the MSP's monitoring and management capabilities can help reduce business risk. In many cases, the provider will be able to detect system and network issues before they cause downtime or data loss.
Planning Ahead
The insight gained from the MSP's enterprise-class tools can also aid in the creation of an organization's short- and long-term business strategy. Qualified MSPs have consultants on staff who have designed and implemented advanced IT solutions for a wide range of customers. They bring that experience to the table as part of the co-managed IT arrangement, helping develop a technology roadmap that will improve performance and create a more resilient IT infrastructure.
Best-in-class MSPs will sit down with management and technical staff to discuss both business and IT objectives, and structure an arrangement that meets those needs precisely. Co-managed IT services can also be scaled up or down as needs change.
Remote and hybrid work models are now the norm, putting a strain on in-house IT staff. Co-managed IT arrangements can reduce that strain and provide a host of other business benefits.
ABOUT MAINSTREAM TECHNOLOGIES
Mainstream Technologies delivers a full range of technology services in Arkansas and the surrounding region including managed technology services and consulting, custom software development, and cybersecurity services. We also offer industry-leading data center services in our Little Rock facilities. Established in 1996, Mainstream has earned a reputation for delivering quality, reliable, and professional technology services for public and private-sector customers across the United States.
Jeff Pracht
IT Business Development Manager
(479) 715-8629 Office
(501) 529-0008 Mobile