The IT Skills Gap poses the challenge of how to get the talent needed to keep up with today's technology demands.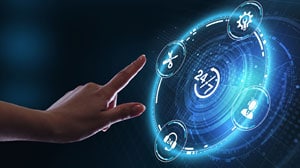 (November 8, 2021) The COVID-19 pandemic has caused organizations of all sizes to accelerate their digital transformation initiatives. Organizations are digitizing business processes, consolidating systems and data, and adopting cloud services to facilitate work-from-home models.
One major obstacle is the IT skills gap, the limited supply of IT labor. Many organizations already face challenges managing and maintaining their existing IT infrastructure, particularly with IT teams also working remotely. Without the right people with the right IT skills, new initiatives are likely to stall.
According to the Global Knowledge 2020 Skills and Salary Report, 78 percent of global IT decision-makers face skills gaps that prevent them from filling current and future needs. Additionally, 77 percent rated the risk to their organization as medium or high. There is a real cost to the bottom line — 67 percent of those surveyed said their employees lose up to nine hours of productivity weekly or more than $26,000 per employee annually due to IT skills gaps.
"This year's report shows that skills gaps continue to hit organizations hard," said Global Knowledge Chief Executive Todd Johnstone.
"A managed services provider can help organizations get the IT talent they need," said Mark McClelland, co-founder and vice president of Mainstream Technologies. "MSPs handle ongoing monitoring and maintenance of IT systems and can take on implementation and upgrade projects."
Why the IT Skills Gap Persists
The skills gap has been a persistent problem in the IT industry for years. In fact, 2020 represents the first time in four years that the percentage of IT decision-makers reporting skills shortages did not increase.
That's not to suggest that the problem is going to go away. Forty-five percent of survey respondents said it's difficult to attract candidates with needed skills, and 35 percent said they'd hire more people if qualified candidates were available. More than a third (37 percent) said they are unable to pay what candidates demand. These problems are particularly acute in key areas such as cybersecurity and the cloud.
Some organizations use training and development programs to expand the skills of their existing IT staff. However, 45 percent of respondents said their programs don't keep pace with technology change, 42 percent said their organization hasn't invested enough in training and development, and 34 percent said their programs aren't effective in developing needed skills.
Deficient training and development programs don't just make it difficult to fill skills gaps. Organizations also face greater IT staff turnover. Almost two-thirds (62 percent) of IT professionals changed jobs because previous organizations did not invest in their development.
"Problem is, when IT teams are already overwhelmed with work, it's difficult to make time for training," McClelland said. By partnering with an MSP, organizations can offload some of this burden. In-house IT pros can focus on training and development, career-building projects, and business-enabling IT initiatives.
How Managed Services Can Help
An MSP can help organizations overcome the IT skills gap in multiple ways. MSP offerings include 24×7 monitoring, remote management, and engineering services that help free in-house IT teams from many day-to-day tasks. MSPs also provide support for the resolution of alerts to ensure that IT issues are handled promptly and efficiently, increasing the performance and reliability of the IT environment.
"Best-in-class MSPs have experienced consultants and engineers on staff who can assess business needs and recommend technology solutions. Because they work with companies in a wide range of industries, MSPs understand how the latest technologies work in real-world environments," said McClelland.
"They can help guide technology investments and the development of policies and procedures to optimize operations. MSPs can assist with implementations, cloud migrations and more, help ensure that new solutions meet cybersecurity and regulatory compliance requirements."
The demand for new technologies exceeds the supply of workers who are trained, credentialed, and experienced in those areas. Organizations have a difficult time attracting and retaining the talent they need. When they do find the right talent, those resources are often overburdened with day-to-day maintenance and support. Partnering with an MSP is an ideal way to close the IT skills gap and avoid falling behind the technology curve.
Jeff Pracht
IT Business Development Manager
(479) 715-8629 Office
(501) 529-0008 Mobile