(May 24, 2021) Many organizations have someone who is responsible for handling their IT issues. They may have one or more IT professionals on staff, or simply a tech-savvy person who takes on IT administrative tasks in addition to their other duties. This raises an important question: If you have an in-house IT staff, do you need managed services?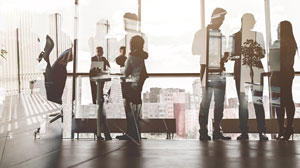 The answer is an unequivocal "yes." A managed services provider (MSP) can either take full responsibility for all IT issues or work in partnership with an in-house IT staff in a co-managed relationship. Best-in-class MSPs offer solutions that can fill support gaps and ensure that the IT environment is secure, reliable, and performing optimally.
What Is Co-Managed IT?
As the name suggests, co-managed IT involves the outsourcing of some IT requirements while utilizing employees to handle other elements. There are several ways to set up this arrangement. Some organizations keep user support requests in-house and rely on the MSP for proactive maintenance and resolving more complex issues. Others might have in-house staff perform software updates but outsource infrastructure support, security monitoring, and incident response.
The right MSP will engage with key stakeholders to gain an understanding of business objectives and IT pain points. The MSP can then design a solution that will best align with the organizations needs and budget.
What Are the Benefits?
There's a common misconception that only large organizations can benefit from co-managed IT. However, organizations of all sizes can take advantage of MSP services to enhance their IT operations. Utilizing an experienced MSP is less costly than hiring equivalent full-time IT specialists, and the MSP's staff will have up-to-date training and hands-on experience with IT solutions in a wide range of environments.
Co-managed IT also saves money by minimizing the risk of business disruption due to IT problems. The MSP will have the disciplined processes to take steps to prevent costly downtime. When problems do occur, the MSP's staff will have the skills needed to rapidly troubleshoot and resolve them.
Will In-House Staff Lose Their Jobs?
MSP's are there to improve the IT environment and provide peace of mind, not displace full-time staff. In-house IT staff will benefit from having access to the MSP's engineers and technicians. By shouldering some of the IT burden, the MSP will help to relieve stress and streamline operational processes.
The MSP will have the resources to take on routine administrative tasks, enabling in-house personnel to focus on strategic, business-enabling initiatives. Freed from the IT maintenance burden, employees will also have more time for training and career-enhancing projects, improving their overall quality of life and value to the organization.
Will the MSP Do a Good Job?
It's simply a myth that a co-managed IT arrangement allows an MSP to get away with subpar services. In fact, in-house IT staff provide an additional level of oversight that helps ensure the MSP meets service level agreements. Furthermore, the MSP pricing model rewards a stable and secure environment, not a reactive approach.
More importantly, qualified MSPs are in it for the long haul. An MSP's reputation depends upon the success of its clients, whether in a co-managed IT relationship or a fully outsourced model.
Choosing the Right MSP
The important thing to remember is that all MSPs are not created equal. They vary significantly in the quality, depth and breadth of their services. Before entering into a co-managed IT relationship, organizations should carefully vet the MSP's capabilities. By partnering with the right provider, organizations can gain access to an invaluable resource that will help enhance their IT environment.
ABOUT MAINSTREAM TECHNOLOGIES
Mainstream Technologies is an Arkansas IT services firm that offers managed technology services and consulting custom software development and cybersecurity services. We also offer industry-leading data center services in our Little Rock facilities. Established in 1996, Mainstream has earned a reputation for delivering quality, reliable, and professional technology services for public and private-sector customers across the United States.
Jeff Pracht
IT Business Development Manager
(479) 715-8629 Office
(501) 529-0008 Mobile