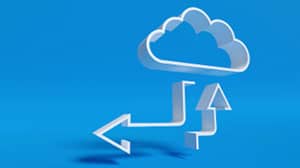 (February 14, 2022) Remember when everybody worked 9 to 5 and "the systems are down" was an acceptable excuse for lost productivity and poor customer service? Those days are long gone. Today, computer systems don't just support the business. In many ways, they are the business. When those systems aren't running, organizations lose time, money, and customer goodwill. There are ways to reduce the risk of system downtime.
Many small to midsize businesses (SMBs) simply house their IT systems in any available office space. Their facilities lack redundant power, networking, and other services that provide a hedge against downtime. In many cases, SMBs also lack the IT staff resources to proactively manage their IT environment to ensure optimal performance and availability.
Managed data center services can close these gaps. Best-in-class managed services providers (MSPs) have invested in resilient data center facilities that are supported by highly trained and experienced staff. Organizations can house their equipment in the MSP's facility or take advantage of the MSP's IT resources in an Infrastructure-as-a-Service model. Either way, organizations gain greater uptime with fewer headaches and at a lower cost.
Problems in the Cloud
The cost of downtime continues to increase every year. A 2021 survey of IT and data center managers by the Uptime Institute found that 47 percent of outages cost $100,000 to $1 million in 2021, up from 28 percent in 2019. Industry analysts say this upward trend will likely continue as organizations become more dependent on digital services and face greater customer churn and regulatory penalties for downtime.
Many organizations assume that moving applications to the cloud will provide them with 100 percent uptime. However, public cloud outages do occur and can have a devastating impact on businesses that rely on their services. In May 2021, content delivery service provider Fastly suffered an outage that disrupted thousands of sites and services, including major public cloud providers. In the Uptime Institute survey, 43 percent of respondents said they won't put mission-critical workloads in the public cloud due to concerns about resiliency and a lack of visibility into a cloud provider's infrastructure and risks.
Organizations are also concerned about cloud costs. A 2021 report by Data Center Frontier finds that many organizations are changing their cloud strategies, seeking a better balance between resiliency and economics. Some are even repatriating their cloud workloads in favor of other data center alternatives.
Selecting a Managed Data Center Service
Managed data center services are an ideal solution. By partnering with a local MSP, organizations can visit the data center facility and speak with the MSP about its architecture and management processes. Best-in-class MSPs have built data centers with highly resilient architectures and redundant services.
According to the 2021 Uptime Institute survey, the leading causes of downtime are power failures, network outages, cooling system failures, and system and software errors. That's why world-class data centers have N+1 redundancy — if any part of the data center ecosystem fails, there is at least one independent backup that can take over. The MSP should be able to describe the features in place to reduce the risk of downtime.
Organizations should also ask about the MSP's certifications, staffing levels, and management processes. Has the MSP obtained SOC II Type 2 and MSP Alliance Cyber Verify certifications? Is the data center SSAE-16 compliant? Is it staffed around the clock by highly trained and experienced personnel? What are their procedures for proactive maintenance and incident response?
IT outages are expensive, but the cloud isn't necessarily the answer. Managed data center services can help reduce the cost and risk of downtime.
ABOUT MAINSTREAM TECHNOLOGIES
Mainstream Technologies is a Little Rock IT company that delivers a full range of technology services in Arkansas and the surrounding region including managed technology services and consulting, custom software development, and cybersecurity services. We also offer industry-leading data center services in our Little Rock facilities. Established in 1996, Mainstream has earned a reputation for delivering quality, reliable, and professional technology services for public and private-sector customers across the United States.
Jeff Pracht
IT Business Development Manager
(479) 715-8629 Office
(501) 529-0008 Mobile