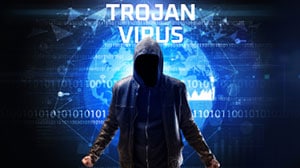 (December 7, 2020) A new malware campaign targeting smartphones is the latest sign that malicious actors are stepping up their attacks on remote workers. It's also a reminder that organizations must take action to manage and secure employee-owned mobile devices being used to conduct company business.
Researchers say recent attacks on both Android and iOS devices have contributed to a 70 percent increase in mobile malware attacks since COVID-19 forced millions of Americans to work from home. One such attack sends a fake package-delivery notification by text messaging. Clicking on the link installs the Wroba Trojan, which can steal credentials and contact lists, access calls and text messages, and take control of the device's microphone and camera.
At-home workers are inviting targets because they are more likely to be utilizing personal devices for business use and lack many of the protections a more secure office environment provides. A Verizon study finds that two-thirds of mobile device users fail to take even basic precautions such as changing default passwords, managing application permissions, or updating apps and operating systems.
Protect Yourself with MDM
Some organizations seek to manage these risks by providing highly secured company-owned devices to employees and restricting the use of employee-owned devices. However, a Gartner study has found that supporting company-owned devices costs almost three times as much as supporting employee-owned devices, largely due to procurement costs.
In truth, the use of personal devices for work is so widespread that it would be difficult and cost-prohibitive to reverse at this point. As a result, your best bet may be to deploy a mobile device management (MDM) solution to protect company assets that are being accessed on personal devices.
MDM enables centralized management of smartphones, tablets, and other mobile devices across the organization. With MDM, IT staff can monitor each device that connects to the network in the context of the user's role and location, the security posture of the device, and the network resources being accessed.
Remote device management features can dramatically reduce risk. IT administrators can remotely configure devices and apps to ensure consistency with corporate policies. MDM can also be used to create standardized device profiles that restrict access to questionable features, apps, and websites. Most important, IT staff can use MDM to deliver application updates and security patches, as well as ensuring devices comply with security protocols.
Addressing Privacy Concerns
MDM solutions can sometimes spark privacy concerns among employees. MDM typically requires a lightweight agent to be installed on users' devices to enable centralized management. Many employees will find that to be overly intrusive since it means an administrator could potentially lock or wipe their device remotely or limit access to applications that pose an unacceptable risk of data leakage or compromise.
To address privacy concerns, many MDM solutions offer the option of "dual persona" management. This is simply a technique for provisioning and maintaining two separate and independent user environments on the same device. Essentially, the MDM client creates a protected "work-only" container on the device that remains separate from the user's personal data and applications.
Working with a managed services provider is a great way to deploy a mobile device management solution while avoiding privacy headaches. Mainstream Technologies can help you create device management policies, configure devices to meet policy requirements, and provide ongoing management. Contact us today to discuss your particular needs and objectives.
ABOUT MAINSTREAM TECHNOLOGIES
Mainstream Technologies delivers a full range of IT services in Arkansas and the surrounding region including IT management and consulting custom software development, and cybersecurity. We also offer industry-leading data center services in our Little Rock facilities. Established in 1996, Mainstream has earned a reputation for delivering quality, reliable, and professional technology services for public- and private-sector customers across the United States
Jeff Pracht
IT Business Development Manager
(479) 715-8629 Office
(501) 529-0008 Mobile