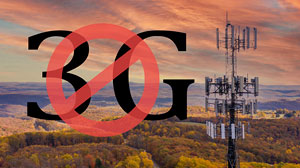 (February 4, 2022) Telecom carriers are sunsetting their 3G networks to free up cell tower space and wireless spectrum for 5G services. Organizations must act quickly to replace 3G devices to avoid disruption to their operations.
3G devices are still widely used in a number of industry sectors. Fleet operators and logistics companies use 3G devices for vehicle telemetry and tracking. In the energy industry, 3G devices are used to monitor far-flung equipment, such as oilfield pumping units. First responders use 3G for communications, and utilities have implemented 3G-based smart meters. 3G is used in healthcare for patient monitoring and mobile personal emergency response.
According to some industry estimates, more than 80 million 3G devices are in service in North America alone. Most of these rely on carrier networks for connectivity, and will not be able to communicate when 3G networks are shut down.
Upcoming 2G/3G Sunset Dates
There isn't much time to act. AT&T plans to complete the shutdown of its 3G network by February 2022. T-Mobile will shut down the 3G CDMA network it purchased from Sprint by March 31, 2022, and its own network sometime in April 2022. Verizon's 3G network will sunset by Dec. 31, 2022. Boost, Cricket, Straight Talk, and other service providers that rely on these networks will also be affected.
2G networks are being sunset as well. Many 2G networks have already been shut down, and T-Mobile plans to end 2G services by December 2022. 2G is used by older Internet of Things (IoT) devices because of its lower power requirements.
Although there may be workarounds, such as setting up a private 2G/3G network, most organizations are faced with replacing, upgrading, or retrofitting devices that rely on these older cellular technologies. In addition to the cost of the devices themselves, organizations face the expense of deploying them, often across geographically dispersed industrial operations.
That is if they can even get the new equipment. Ongoing IT supply chain constraints and shortages of computer chips have caused delays in the production of 4G and 5G devices.
Developing a Plan of Action
For many organizations that rely on 2G/3G devices, downtime would be an expensive proposition. Therefore, they should be working quickly to avoid disruption. A critical first step is to assess how and where the devices are used and prioritize upgrades according to the greatest potential impact on operations if downtime were to occur. Contact carriers to determine exact network shutdown dates, and work with vendors to get device delivery estimates, even if it means shipping only part of an order.
Organizations that don't have 2G/3G devices should consider this a cautionary tale. Technology marches on, and decisions by carriers, major hardware vendors, and cloud providers can have cascading impacts on businesses. While it's impossible to foresee every technology trend, forward-thinking companies develop technology strategies that anticipate and adapt to change.
Working with a qualified managed services provider (MSP) can also help. Qualified MSPs stay abreast of industry trends, and offer sound advice on equipment upgrades that can help ensure business continuity.
Major telecom carriers are shutting down their 2G and 3G networks, and that could spell trouble for devices that rely on these networks for communication. Organizations should have a plan in place for upgrading these devices, and a technology strategy that helps avoid such risk in the future.
ABOUT MAINSTREAM TECHNOLOGIES
Mainstream Technologies delivers a full range of technology services in Arkansas and the surrounding region including managed technology services and consulting, custom software development, and cybersecurity services. We also offer industry-leading data center services in our Little Rock facilities. Established in 1996, Mainstream has earned a reputation for delivering quality, reliable, and professional technology services for public and private-sector customers across the United States.
Jeff Pracht
IT Business Development Manager
(479) 715-8629 Office
(501) 529-0008 Mobile