"Mainstream Technologies was referred to us as someone we should speak with before we made a decision to proceed with custom software development."  
They were one of 15 possible providers whom we interviewed.  After the initial interview, Mainstream made the short list.  In the second round of interviews, it became very clear to us that they were far and above the best fit.  They understood the project.  They understood our business.  They had a clear understanding of the project from the outset and insisted on collaboration."
The Mainstream Way
The Mainstream Way relies on collaboration with rapid application delivery cycles to deliver working software to those who need it most, faster!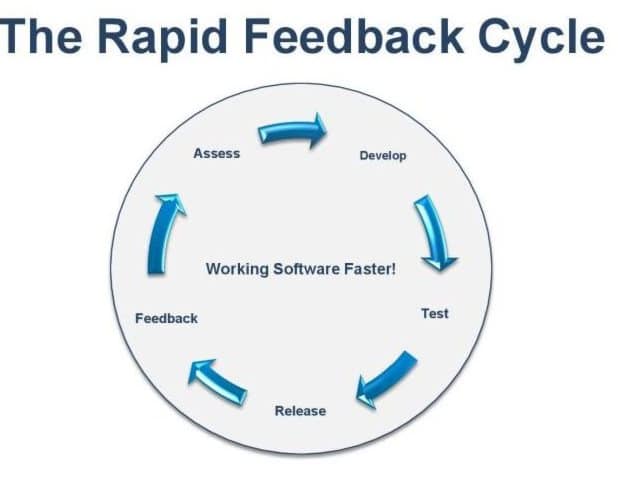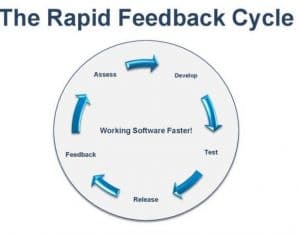 We do this by breaking down a large project into smaller segments, prioritize each one based on user demand and deliver them in short time frames.   This process short-circuits the long delivery time inherent in the old 'waterfall RFP" method of software development.
The impact to an organization is that developers and stakeholders are aligned to a common goal and progressively roll out features without having a prolonged wait.
Mainstream uses:
LEAN SOURCING™ an FTE sourcing model that changes the dynamic from "how much for the entire project?" to "how much can I afford monthly to dedicate to bringing new features online?"
IN-FLIGHT CONSULTING™ maximizes the impact of the solution by incorporating user feedback to build in new efficiencies within the development cycle.
Agile Methods relies on collaboration between stakeholders and the development team to deliver the most impactful features first.
"Mainstream gave us the 'best of breed' by combining Agile and Iterative methods.   They became an extension of our company for programming services.  From the outset, they were the only firm I interviewed that approached the project as an extension of our internal team.  This commitment to a partnership and collaboration created an environment that helped us accomplish all of our goals and more. 
With Mainstream, we now have a new set of business and technology experts we can rely on.  We ended up with a wider and deeper resource pool than I ever imagined.   When we do run into challenges on the business side, I feel comfortable going to them for their consulting services. "
Summary
With Mainstream, you now have the ability to meet your challenges head-on and deliver new features to users quickly.

PEACE OF MIND THE FIRST TIME  
If you think this approach could help your stakeholders, contact us @ 501-801-6700 or visit our website www.mainstream-tech.com.
###