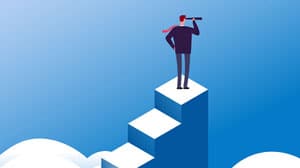 (February 18, 2021) The role of Chief Information Officer (CIO) has become increasingly important as organizations seek to better leverage technology to gain a competitive advantage. This creates a quandary for small to midsize businesses (SMBs): Do SMBs need a CIO and who will fill that role?
The CIO is an organization's most senior person in charge of IT systems and services. Traditionally, this role was highly technical. However new research indicates the role of the CIO has evolved.  Deloitte's 2020 Global Technology Leadership Study has tracked the evolution of the CIO from "trusted operator" to "change instigator." The new report finds that the savviest executives now rely on the CIO to drive change, helping organizations leverage technology as a business driver and enabler for growth and innovation.
Why a CIO Is Valuable
For SMBs, it's important to have technical personnel overseeing the operation of technology — the day-to-day maintenance and management of hardware, software, and cloud-based services. But that's no longer enough. Organizations of all sizes can benefit from executive-level leadership that ensures their technology efforts are aligned with the strategic goals and vision of the organization.
One of the primary responsibilities of the CIO is to develop and implement an IT strategy. This involves identifying and leveraging technology to bring value to the organization, the internal user, and the customer. In addition, the CIO must identify gaps and bottlenecks in the organization's existing technology and develop ways to increase agility, enhance customer service and move the business forward.
Unfortunately, very few SMBs can afford a full-time CIO. IT personnel often report to a business executive who has multiple responsibilities. In many SMBs there's an emphasis on "keeping things up and running." This approach could provide adequate results in the short-term. Without proper planning and alignment between IT and leadership, however, disconnects can develop. This risks placing IT into a purely reactive mode, resulting in tension, decreased efficiency, increased IT spending, and a degraded customer experience.
The Virtual CIO
Even if an SMB has budget for executive IT leadership, few will justify hiring a full-time CIO. While IT strategy development and implementation are critical, it may not be a full-time job in a smaller organization. This also contributes to why many IT professionals working for SMBs find themselves too embedded in IT operations and unable to spend enough time on planning and longer-term strategy.
That's why a virtual CIO can be invaluable to SMBs. A virtual CIO is an experienced technology leader who serves as an organization's CIO on a flexible, outsourced basis. He or she will take time to understand the organization's business model, strategy, and pain points, and recommend ways to better utilize technology.
Best-in-class managed services providers (MSPs) typically provide virtual CIO services as a component of their overall service offering, enabling deep integration of IT strategy with operational processes and outcomes. Organizations benefit from the vast amount of experience the virtual CIO brings from working with other SMBs.
As IT continues to evolve, it's no longer enough to manage technology on a day-by-day basis. Technology is integrated deeply into most business and customer service functions. Organizations that continue to manage their technology day-by-day may save money in the short term, but in relying on this outmoded approach, they will quickly lag behind their more technically savvy competitors. Yes, SMBs need a CIO, and a "virtual" executive can fill that strategic role.
ABOUT MAINSTREAM TECHNOLOGIES
Mainstream Technologies delivers a full range of technology services in Arkansas and the surrounding region including managed technology services and consulting, custom software development and cybersecurity services. We also offer industry-leading data center services in our Little Rock facilities. Established in 1996, Mainstream has earned a reputation for delivering quality, reliable, and professional technology services for public and private-sector customers across the United States.
Jeff Pracht
IT Business Development Manager
(479) 715-8629 Office
(501) 529-0008 Mobile