Virtual CIO Services Benefits – On-Demand Leadership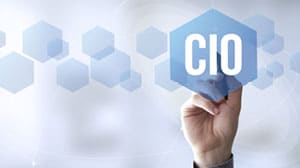 (January 4, 2021) To one degree or another, almost every business today is dependent upon technology. While smaller organizations may not require enterprise-class systems and platforms, they almost certainly are using communication and collaboration tools, networked computers, cloud services, and a variety of applications. Typically, however, business leaders have neither the time nor the desire to manage IT infrastructure.
"Not many people get into business because they want to manage technology, but IT is nevertheless critical to business success," said Mark McClelland, co-founder and vice president of Mainstream Technologies. "Larger organizations with a lot of resources are going to recruit and hire a Chief Information Officer or an IT manager who will provide direction for a staff of IT pros.
"That just isn't a reasonable option for many smaller organizations. The cost of keeping someone with that level of talent and expertise on staff cannot be justified. There may not even be enough work to keep a full-time CIO fully engaged."
This is why many small to midsized businesses (SMBs) are turning to "Virtual CIO" services. Through this program, customers gain an affordable way to leverage the technical expertise and business acumen of an experienced IT executive.
Customers can access Virtual CIOs on a part-time basis for as long as needed without taking on the salary commitment such a full-time position commands. This model gives customers access to a proven leader who can drive strategy and execution of key initiatives for meeting big-picture business goals.
A Fresh Perspective
Virtual CIOs will work closely with businesses to identify technology trends that could impact the organization. They can also help manage opportunities and risks, guide IT-related business decisions, develop policies, implement procedures, and drive IT initiatives to successful completion.
"Virtual CIO services should not be aligned with any specific product, vendor or technology — they should provide an independent and unbiased perspective," said McClelland. "It's a way for customers to gain the expertise needed to bridge the gap between business goals and technical drivers."
Virtual CIOs are seasoned IT professionals who have overseen many projects encompassing a wide range of hardware and software solutions. Customers gain the benefit of their expertise in preparing pragmatic business solutions enabled by proven technology.
"Technology is constantly changing and improving, but organizations with limited IT staff are oftentimes unable to implement new or unfamiliar solutions," said McClelland. "Time constraints, lack of experience, and the pressing needs of supporting day-to-day operations result in a tendency for IT staff to continue doing things the way they've always been done.
"With a qualified Virtual CIO, you'll gain the benefit of experienced perspectives that can improve the business."
Virtual CIOs provide a range of expertise, including infrastructure, cloud platforms, security, and more. Services can be tailored to organizations of any size and any industry, covering everything from one-off projects and reviews to regular ongoing consultations.
Driving Innovation
Technology is now the dominant driver of business change, but each new generation of technology requires new skills sets. Although technology can help level the playing field, smaller organizations often face significant obstacles when it comes to adopting the latest solutions.
Recent surveys have found that SMB leaders would like to develop new capabilities around collaboration, mobile, cloud, and analytics to achieve greater operational efficiencies and capture customer insights. However, most also say they are facing a shortage of the IT talent needed for these initiatives, and they have not been able to develop the necessary skills from their existing workforce.
As organizations continue to adapt to changing operational requirements and customer demands, it's even more important to have IT expertise at the executive level to drive innovation. Virtual CIO services are designed to allow SMBs to tap the expertise of an experienced IT executive who can help develop an IT strategy and oversee the implementation of that strategy in alignment with the organization's business goals.
"Today's business environment demands that IT be able to react quickly to change and to deliver information assets and services flexibly and efficiently," said McClelland. "Companies need strong, executive-level leadership to achieve those results.
"Virtual CIOs help identify key IT strategies, develop implementation plans, and build consensus within the organization. This helps organizations maximize the value of their technology investments and achieve their business objectives."
ABOUT MAINSTREAM TECHNOLOGIES
Mainstream Technologies delivers a full range of technology services in Arkansas and the surrounding region including managed technology services and consulting custom software development and cybersecurity services. We also offer industry-leading data center services in our Little Rock facilities. Established in 1996, Mainstream has earned a reputation for delivering quality, reliable, and professional technology services for public and private-sector customers across the United States.
Jeff Pracht
IT Business Development Manager
(479) 715-8629 Office
(501) 529-0008 Mobile