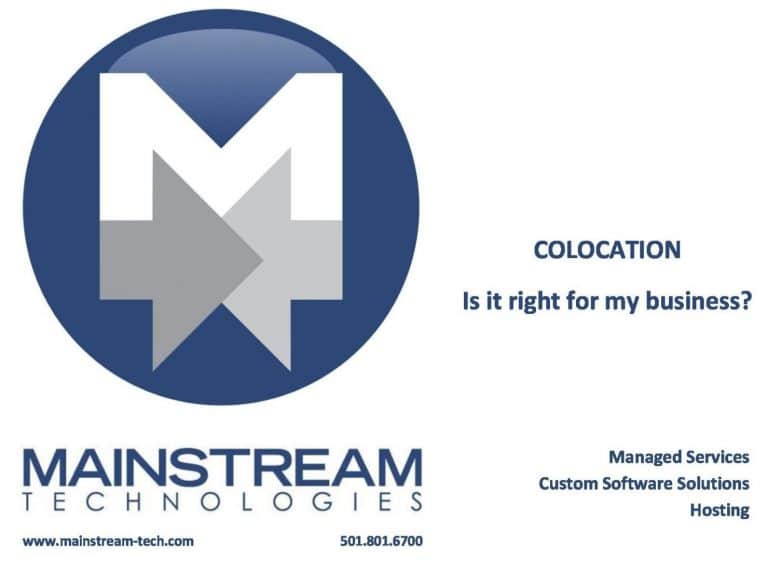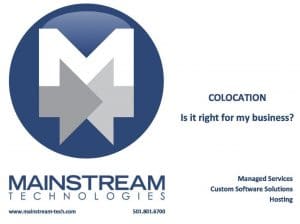 We're using more applications and creating more data than ever before.  As our reliance on technology grows, uptime becomes increasingly important. Colocation can be valuable to your business as a tool for keeping your systems up and running.
Colocation is the practice of storing some or all of your IT equipment and data at an off-site location to assure system availability.   With colocation, you own and maintain the equipment while the provider assumes responsibility for the surrounding environment and connectivity.  Colocation provides the redundancy and security features of a commercial data center without requiring the build-out and staffing expenses.   Some choose colocation as a home for their primary infrastructure, while others use it for disaster recovery and business continuity strategies.
Why should I consider colocation?
If you're responsible for a small or mid-size business, colocation is a dependable and affordable way to store your data in a facility that's safe and secure.   If you choose, many data centers offer support services to maintain system health and regularly validate your backups.
If you're operating a larger business, colocation may be preferable to building out or expanding your own facility.  Colocation may or may not be less expensive than building your own, but outsourcing these services provides options for addressing ongoing support needs while maintaining control of your infrastructure.   Many find that outsourcing the redundancies and support services implicit in a commercial data center are a better use of finite resources than owning these capabilities.
Businesses that have a geographically dispersed or mobile workforce and need their information 24/7 (i.e. anytime, anywhere) often colocate to outsource the support and associated costs for 24/7 access.
Commercial Data Centers
Since support system failure is the leading cause of downtime, commercial data centers are designed to meet the challenge by employing an n+1 "fault tolerance".   For example, if four 10-ton air units are needed to maintain the proper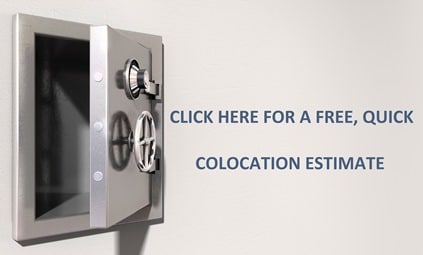 climate, then the n+1 system requires at least five units in place. [1]
Commercial data centers offer redundancies, scalability, and focus for their clients that might be absent otherwise.  For example, a typical business housing and managing its own infrastructure must provide a stable and redundant IT environment and hire an experienced staff one person at a time to maintain these systems.
As a result, a small or mid-sized business must choose between budgeting for operational support tasks, ongoing staff training, or equipping staff with the necessary tools.  By using a commercial data center a business automatically gains an economy of scale since the environment, staffing, training, and tool costs are shared with other data center clients.   Small and mid-size businesses can save money while improving service quality and gaining access to additional support options when they're needed.
When should I consider colocation?
We've found that businesses look closely at colocation when they're:
considering a change or enhancement to their disaster recovery or business continuity strategy and they need an accessible off-site location, or
they're implementing a new application which must be accessible 24/7/365, or
their data is highly sensitive, critical in nature and an accredited provider is required to comply with industry, state, or federal regulations.
What else should I consider?
In considering colocation, you should know whether it will serve as a primary or a secondary location and what are the uptime requirements?  Other questions you may want to consider are:
What are your goals? What do you hope to achieve?
What are your bandwidth requirements?
Are you at capacity now? Are you close?
How much data growth do you anticipate in 1 yr, 3 yrs, or possibly even 5 yrs?
How important is the geographic location?
What are the provider's contract terms?
The answers to these questions will determine how to proceed with arriving at a solution that meets your business objectives.
Colocation is a valuable tool for securing your data, expanding your competencies, and maintaining control while sharing the cost of services with the marketplace.  The true value of colocation to your business will be determined by your immediate needs and expected growth.
If you'd like to find out more about how colocation can help you achieve your business goals, visit our website at www.mainstream-tech.com or give us a call @ 501 801.6700.
##
[1] http://www.ponemon.org/local/upload/file/Data_Center_Outages.pdf