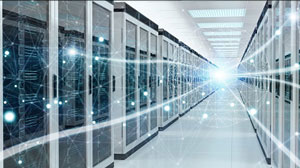 (July 14, 2022) Every organization requires a disaster recovery (DR) plan to protect against events that could cause prolonged downtime of critical systems, services, and applications. In fact, DR planning is more important than ever, given the rise of extreme weather events, the lingering threat of a pandemic, and other risks. Colocation is a cost-effective option for disaster recovery planning.
Traditional DR involves failing over to offsite IT infrastructure where workloads can continue to run without interruption in the event of problems at the primary data center. However, that can be extremely expensive. By some accounts, building a data center with redundant infrastructure can cost up to $1,000 per square foot.
Colocation and DR-as-a-Service (DRaaS) are two cost-effective alternatives. Both options allow easy offsite failover of IT operations without the costs of building a physical DR structure. The DRaaS approach has a couple of significant downsides, however.
The Pros and Cons of DRaaS
Cloud-based DRaaS is easy to implement and very cost-efficient. It is a subscription-based offering in which the provider absorbs all hardware, software, and real estate costs. In addition, the provider adds multiple layers of services such as DR planning and testing, real-time data replication, data security, and ongoing management and support of the infrastructure.
There is some loss of control in the cloud, however. Customers don't get to choose the infrastructure that will house their data, and it can be difficult to conduct in-person inspections of the facility. Backup and recovery times can be highly inconsistent, depending on the provider's network connections. Organizations may not even be able to access their data if they lose Internet access at their primary site.
Colocation Offers Flexibility and Control
In the colocation model, organizations rent data center space to support their hardware. This not only eliminates the capital expense of building out a redundant data center but provides greater control over the infrastructure. Customers also get to select the system architecture for their mission-critical applications.
Colocation delivers many other cost benefits by spreading operational expenses among multiple customers. Power, cooling, telecommunications, and network services are calculated at a shared rate and rolled into the monthly bill. Colocation can also provide a great deal of flexibility, allowing customers to choose the amount of space they need today with the ability to expand as their IT environment grows.
Reliability and Security Are Key
Colo facilities typically provide greater reliability than onsite data centers. They feature redundant power sources, cooling systems, network connections, and more to ensure resilience. SOC 2 Type 2 certification shows that the provider has implemented appropriate security policies and procedures to protect customer data.
Security is another critical advantage. Colocation facilities typically have advanced physical security features such as video surveillance, outdoor lighting, fences, and other barriers, locks, alarms, and access controls. Fire suppression systems offer further protection. Some facilities can also provide office space and phone service if the customer's offices are unavailable.
Support Benefits
Best-in-class colocation providers offer high levels of support, which can relieve many of the headaches of supporting remote infrastructure. Many offer "remote hands" services for basic tasks such as rebooting a server, reconnecting cables, or responding to alerts, and "smart hands" services for more complex tasks such as server provisioning, configuration changes, and circuit testing. Some also offer IT security services such as managed firewalls, advanced threat detection, intrusion prevention, vulnerability testing, encryption, and compliance validation.
DR planning is essential, but few organizations have the resources to build out redundant data centers. DRaaS can be a good option, but colocation gives customers flexibility and choice. Organizations should consider leveraging a colo provider's facilities to ensure business continuity.
ABOUT MAINSTREAM TECHNOLOGIES
Mainstream Technologies delivers a full range of technology services in Arkansas and the surrounding region including managed technology services and consulting, custom software development, and cybersecurity services. We also offer industry-leading data center services in our Little Rock facilities. Established in 1996, Mainstream has earned a reputation for delivering quality, reliable, and professional technology services for public and private-sector customers across the United States.
Jeff Pracht
IT Business Development Manager
(479) 715-8629 Office
(501) 529-0008 Mobile