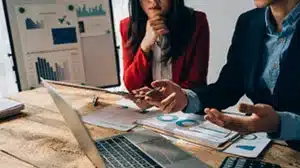 (October 2, 2023) The pace of technology change continues to accelerate, providing opportunities for small to midsize enterprises (SMEs) to transform their operations, enter new markets, and create new business models. Business executives are responsible for developing the vision that will guide the organization's efforts to take advantage of these new technologies.
However, many SME leaders struggle to understand complex technologies and make effective decisions regarding IT investments and strategy. Without a solid background in IT, it's hard to separate hype from reality and choose technologies that will deliver as promised. In addition, business leaders are often unaware of simple, cost-effective solutions that could have a big impact on their operations for a limited investment.
That's why SMEs can benefit from "virtual CIO" services. Virtual CIOs are seasoned IT leadership professionals who have executed a wide range of IT projects for diverse organizations. Best-in-class managed services providers (MSPs) such as Mainstream have experienced consultants on staff who can take on the virtual CIO role.
Why Work with a Virtual CIO?
Business executives may turn to in-house IT staff to gain insight into the latest technology trends. However, IT staff typically have their hands' full keeping up with day-to-day administrative tasks with little time to identify and evaluate new technology. Because they're focused on the existing IT environment, they may not be familiar with the latest solutions. Furthermore, technical personnel don't always have the business perspective to guide technology decision-making.
However, few SMEs have the need or budget to hire a full-time CIO. It makes more sense to bring in a virtual CIO as needed, at a fraction of the cost of a CIO's salary.
Working with an MSP adds even greater value to the arrangement. A qualified MSP will already have assessed your IT environment and discussed your operational requirements and business objectives. The MSP will have seen what works and what doesn't, and understand how to map technology investments to those goals. Additionally, the MSP will consider the long-term management of any technologies you decide to implement.
What Do Virtual CIO Services Include?
Virtual CIO services vary, but in general, the consultant will work closely with your executive team to:
Identify technology trends that could impact the organization
Evaluate IT-related decisions in terms of business strategy
Minimize the risks associated with new technology adoption
Develop policies and procedures for effective IT management
Oversee the execution of IT initiatives to meet business goals
Manage IT vendors and contracts to ensure cost-effective services
Ensure the overall technology strategy aligns with business objectives
Virtual CIO services can be tailored to meet the needs of organizations of any size and any industry, covering everything from project management and reporting to regular consultations. This model also provides access to a proven leader who can drive strategy and provide a fresh viewpoint that comes from an outside perspective.
How Can Mainstream Help?
Mainstream provides executive-level strategy and planning services as part of our managed services offerings. Our consultants will meet with you to discuss your business opportunities and pain points. We can also help you identify bottlenecks in your operations that could be relieved by technology and opportunities to increase productivity and grow the top and bottom lines. Because we don't represent any particular vendor or solution, we will provide an objective and cost-efficient opinion that maximizes your existing technology investments.
Technology can help level the playing field, but smaller organizations often face enormous obstacles when identifying and adopting the latest solutions. Mainstream's virtual CIO services allow you to work with an executive who can help guide your organization's IT strategy and oversee the implementation of that strategy in alignment with your business goals.
ABOUT MAINSTREAM TECHNOLOGIES
Mainstream Technologies delivers a full range of technology services in Arkansas and the surrounding region including managed technology services and consulting, custom software development, and cybersecurity services. We also offer industry-leading data center services in our Little Rock facilities. Established in 1996, Mainstream has earned a reputation for delivering quality, reliable, and professional technology services for public and private-sector customers across the United States.
Jeff Pracht
IT Business Development Manager
(479) 715-8629 Office
(501) 529-0008 Mobile