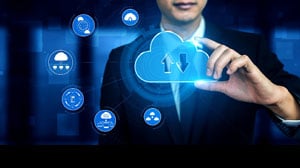 (April 12, 2022) The cloud may seem amorphous, but it's actually made up of a few well-defined operational models. Two of the most popular are Infrastructure-as-a-Service (IaaS) and Software-as-a-Service (SaaS).
Understanding the similarities and differences between IaaS and SaaS can help organizations develop the right cloud strategies. We defined IaaS in a recent post: It gives organizations access to IT resources in a hosted environment with a pay-as-you-go financial model. IaaS is commonly used to support in-house applications and for storage, backup and disaster recovery, data analytics, software development, and more.
In the SaaS model, service providers deliver their applications over the Internet for a subscription-based fee. Popular SaaS products include Microsoft 365 and Salesforce.com. SaaS allows organizations to access the latest versions of enterprise-class applications without the cost and headaches of implementing and maintaining them in-house.
Complementary Solutions
IaaS and SaaS are not mutually exclusive. In fact, most organizations adopt a combination of service providers and models.
The two models offer many of the same benefits. By eliminating the need to deploy in-house IT infrastructure for the delivery of software and services, they enable organizations to preserve capital and make the best use of IT skills and budget. New services and features can be implemented quickly, and the solution scaled as needed. The service provider is responsible for keeping the infrastructure up-to-date.
Both allow users to access applications and services from virtually any device and location with an Internet connection. The service provider keeps the infrastructure secure, although the customer is responsible for protecting user accounts, data, and some other aspects of the environment.
IaaS vs. SaaS: Which Do You Choose?
The key to a successful cloud strategy is understanding which model to use in each circumstance. SaaS is ideal for productivity apps, email, collaboration tools, and other basic services. These applications are typically not customized to any great degree and don't offer any real competitive advantage. The products available are mature and stable, so there's no reason to maintain them in-house. Many organizations use SaaS for more complex applications such as enterprise resource planning, but the implementation process is slower and more complex.
IaaS gives organizations greater autonomy and control, while still allowing them to take advantage of standardized and highly automated infrastructure. It offers a cost-efficient means of upgrading outdated infrastructure, minimizing depreciable assets, and leveraging powerful resources they might not otherwise be able to afford.
Rapid Growth of the IaaS Market
SaaS has long commanded the lion's share of the cloud market, but IaaS is growing quickly. According to a new report from ResearchAndMarkets.com, the global IaaS market is expected to see a compound annual growth rate of 24.9 percent through 2027.
This growth is being driven by increasing dependence on cloud infrastructure and rapid digitization across industry sectors. The adoption of Internet of Things (IoT) applications and artificial intelligence (AI) are creating the need for more advanced computing and data storage capabilities. Near-ubiquitous Internet connectivity and the expansion of 5G communications have made cloud-based resources more accessible.
Selecting the Right IaaS Provider
Organizations often obtain IaaS from major cloud providers such as Microsoft Azure and Amazon Web Services. However, the service provider offers very limited support, so IT teams will need an understanding of the cloud interface to configure the service properly and ensure the right security controls are in place.
Organizations with limited IT skillsets may be better served by working with a local provider who offers fully managed services. Local providers tend to offer more customized options and can assist more with planning and implementation.
IaaS and SaaS are complementary cloud services that offer many businesses and IT benefits. The key to maximizing their value is to choose the right solution for each application and use case.
ABOUT MAINSTREAM TECHNOLOGIES
Mainstream Technologies is an IaaS provider in Little Rock, Arkansas We also offer managed technology services and consulting, custom software development, and cybersecurity services. Established in 1996, Mainstream has earned a reputation for delivering quality, reliable, and professional technology services for public and private-sector customers across the United States.
Jeff Pracht
IT Business Development Manager
(479) 715-8629 Office
(501) 529-0008 Mobile