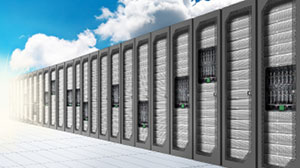 (March 7, 2022) IT managers often face mandates to keep technology costs in check while also responding quickly to changing business demands. Faced with this apparent paradox, they often look to public cloud providers for solutions. However, the public cloud is not suitable for every application and workload. Organizations still need dedicated IT platforms that give them more control.
Infrastructure-as-a-Service (IaaS) solutions satisfy those requirements in a cloud-like financial model. IaaS offers businesses many operational, financial, and strategic advantages, including the ability to preserve capital, simplify IT management, and introduce new applications and services quickly.
IaaS is a complete IT environment including server, storage, networking, and other foundational computing resources. It allows organizations to outsource their IT infrastructure and tap the resources they need for a predictable monthly fee. In a fully managed solution, ongoing maintenance, management, and support costs are built-in, enabling the customer to shift much of the total cost of ownership (TCO) to the IaaS provider.
Flexibility and Scalability
Traditionally, IT spending was heavily weighted with fixed costs. Almost two-thirds of the average IT budget was tied up in fixed assets, at least in the short run. Organizations were burdened with large amounts of depreciation, making the business less responsive.
The public cloud has helped relieve some of those pressures by enabling a pay-per-use, operational cost model. It frees organizations from the expense of buying and maintaining on-premises hardware and enables them to obtain technology solutions they might not otherwise be able to afford. Customers also gain the flexibility to rapidly scale up operations to cope with peaks of demand, without the need to carry that overhead during more quiet periods.
IaaS offers many of these same benefits while providing greater control than the public cloud. Organizations can tap new technologies without the cost and complexity of evaluating, purchasing, implementing, and maintaining them in-house. IaaS provides a more flexible acquisition model that enables organizations to roll out new applications more quickly, and scale the IT infrastructure to meet changing business needs.
Many Benefits
Many small to midsize businesses (SMBs) have outdated technology but lack the time, budget, and expertise to undertake an upgrade. IaaS enables SMBs to upgrade their environment with no capital outlays or business disruption, and ensure performance, availability, and security with fewer headaches.
IaaS also helps organizations stay abreast of the latest technologies with less risk and without a steep learning curve. It helps to level the playing field, allowing them to take advantage of advanced solutions and services that would be beyond the reach of many small businesses. Access to enterprise-class technologies helps increase productivity, enhance customer service and boost the bottom line.
Organizations can also leverage IaaS to improve business continuity. Depending upon the customer's needs, an IaaS provider can implement a disaster strategy for the customer. This approach eliminates the significant expense associated with setting up a traditional DR site.
Fully Managed Solutions
A key value of a fully managed solution is the IaaS provider's expertise. Because it is monitored, maintained, and managed by highly qualified professionals, IaaS provides an IT infrastructure that is highly scalable, reliable, and available.
Best-in-class IaaS providers can structure service agreements to include management of software, security, and other components as well as hardware and connectivity. Organizations can focus valuable in-house technology resources on their core business applications rather than maintaining the IT infrastructure.
The benefits of IaaS are many, but they all boil down to better allocation of resources. Given the budget, time, and expertise required to implement and manage the IT environment, outsourcing at least part of the data center is a smart move. IaaS shifts both the capital expense and the maintenance of IT assets to the IaaS provider, giving customers more flexibility to respond to changing business demands.
ABOUT MAINSTREAM TECHNOLOGIES
Mainstream Technologies delivers a full range of technology services in Arkansas and the surrounding region including managed technology services and consulting, custom software development, and cybersecurity services. We also offer industry-leading data center services in our Little Rock facilities. Established in 1996, Mainstream has earned a reputation for delivering quality, reliable, and professional technology services for public and private-sector customers across the United States.
Jeff Pracht
IT Business Development Manager
(479) 715-8629 Office
(501) 529-0008 Mobile