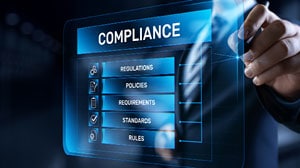 (June 3, 2021) High-profile cyberattacks have compelled government and industry regulators to increase requirements for security controls. Now President Biden has issued an Executive Order on Improving the Nation's Cybersecurity. Some organizations view cybersecurity regulations as another burden on the business. However, regulatory compliance plays a critical role in any cybersecurity strategy.
Regulations don't generally demand any particular security technology. Instead, they lay out a cybersecurity framework and recommend the types of controls needed for a layered security approach. By following these recommendations, organizations can reduce their exposure and minimize the risk of fines and penalties for noncompliance.
Growing Regulatory Requirements
The Executive Order is not a law, and generally applies only to federal agencies and contractors. However, it joins an alphabet soup of government and industry regulations that establish baseline security standards.
For example, the Payment Card Industry Data Security Standard (PCI DSS) applies to any organization that processes or stores payment card data. It specifies 12 security controls, including data encryption, network perimeter protection, and up-to-date antivirus tools. Regulations such as the Health Insurance Portability and Accountability Act (HIPAA) and Federal Information Security Management Act (FISMA) are more general, requiring risk assessment, continuous monitoring, and the maintenance of a well-defined security plan.
Many organizations must also comply with increasingly stringent privacy laws, including the European Union General Data Protection Regulation (GDPR) and the California Consumer Privacy Act (CCPA). While these laws don't prescribe specific security controls, organizations must notify affected individuals of a data breach within a short timeframe. Organizations must have tools in place to detect cybersecurity threats.
The Compliance Challenge
Some regulations require organizations to complete an annual compliance audit. Others impose fines and penalties if an organization suffers a breach without proper security controls in place. However, organizations should not view compliance as a point-in-time event but rather as an ongoing process to mitigate ever-increasing cyber threats.
Trouble is, few organizations have the in-house resources needed to develop a cybersecurity strategy and manage the auditing and reporting requirements for regulatory compliance. IT personnel must add compliance to their other duties, resulting in inefficiency, higher operational costs and increased risk.
A qualified managed technology services provider (MSP) can be a strong ally in the compliance process. MSPs can monitor systems and processes, perform proactive maintenance, and collect the data needed for internal and external reporting.
The Value of MSPs
The right MSP will have significant security expertise, helping organizations implement layered security tools and follow best practices. This not only reduces the risk of cyber threats but allows internal personnel to focus on core business activities. MSPs stay abreast of the latest threats and quickly deploy security patches.
An MSP will be familiar with applicable regulations and ensure security systems meet compliance standards. Additionally, the MSP will be able to respond rapidly should a cyberattack occur.
Regulatory compliance requirements are constantly evolving. An MSP can help organizations assess the impact and develop a strategy for maintaining compliance and a strong security posture. Organizations should not view compliance requirements as a burden, but rather as a framework for reducing the risk of a business-crippling security breach.
ABOUT MAINSTREAM TECHNOLOGIES
Mainstream Technologies is an Arkansas IT services firm that offers managed technology services and consulting custom software development and cybersecurity services. We also offer industry-leading data center services in our Little Rock facilities. Established in 1996, Mainstream has earned a reputation for delivering quality, reliable, and professional technology services for public and private-sector customers across the United States.
Jeff Pracht
IT Business Development Manager
(479) 715-8629 Office
(501) 529-0008 Mobile