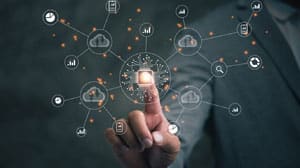 (December 27, 2022) If you ask owners of small to midsize businesses (SMBs) to explain managed IT services, many will probably say that it allows them to outsource all or a portion of their IT support. Although there's value in being able to offload support responsibilities, many still miss the true value of partnering with a managed IT services provider.
In addition to providing support when problems inevitably arise, the right MSP will also focus on preventing problems, improving performance and availability, optimizing the IT environment, and managing the technology lifecycle. Beyond basic functions, managed IT services can help organizations improve their business strategy, day-to-day operations, and customer experience.
Despite these benefits, some organizations still operate in the "break-fix" mindset. If technology is functioning, leave it alone. If something goes wrong, call somebody to fix it. They're not working proactively to keep things running smoothly, identify opportunities to improve how technology functions and maximize their technology investments.
Reducing Risk
One of the primary advantages of managed IT services lies in day-to-day proactive maintenance. The MSP will apply patches and updates, check system logs and alerts, and ensure that backup jobs complete successfully. These best practices help ensure the performance and availability of systems and applications and reduce the risk of downtime and data loss.
MSPs also help maximize security and regulatory compliance. An MSP will update security software, manage firewalls and other security tools, and provide 24×7 monitoring of the IT environment to detect and address threats. MSPs stay abreast of the latest threats and trends and can recommend new tools and services to enhance security.
Risk management also applies to service delivery. Qualified MSPs take the time to understand the dependencies between business processes and IT systems. By prioritizing systems and applications that play a mission-critical role in day-to-day operations, the MSP can minimize hiccups caused by service disruptions and performance problems.
Delivering Strategic Value
Because so many organizations are focused on keeping the lights on and putting out fires, it can be easy to overlook the long-term, strategic value an MSP can provide. To ensure that they can deliver services effectively, MSPs start by assessing the IT environment and recommending system upgrades and consolidation. They implement consistent configurations and security best practices. As such, MSPs can make the IT environment less complex and more secure without sacrificing features and capabilities.
In addition to making IT costs more predictable, qualified MSPs can assist with the budgeting process, and play a key role in creating and executing a strategic IT vision. They can help organizations identify technology solutions that can improve business processes, the user experience and the customer experience. They can then assist with the implementation process to enable a rapid time-to-value for technology investments.
Choosing the Right MSP
The importance of managed services to day-to-day operations and long-term strategy makes choosing an MSP a critical decision. Organizations should look deeper than the price tag and laundry list of services, and find an MSP that goes beyond a traditional, "break-fix" IT support agreement.
Does the MSP have experience with all of the systems and applications in the IT environment? What steps does the MSP take to maximize security? How does the MSP ensure that service delivery aligns with business, legal and regulatory requirements? Can the MSP demonstrate the strategic value delivered to other clients?
Organizations that view managed services as outsourced support are failing to capitalize on the full value of the MSP relationship. An MSP can optimize the availability and performance of the IT environment, allowing employees to be more productive and the organization as a whole to operate more efficiently.
ABOUT MAINSTREAM TECHNOLOGIES
Mainstream Technologies delivers a full range of technology services in Arkansas and the surrounding region including managed technology services and consulting, custom software development, and cybersecurity services. We also offer industry-leading data center services in our Little Rock facilities. Established in 1996, Mainstream has earned a reputation for delivering quality, reliable, and professional technology services for public and private-sector customers across the United States.
Jeff Pracht
IT Business Development Manager
(479) 715-8629 Office
(501) 529-0008 Mobile