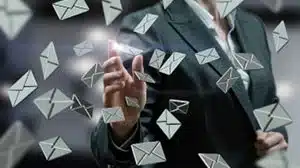 (October 30, 2023) 2021 marked the 50th anniversary of the first email, but the technology isn't showing its age. Although other communication tools have come and gone, email remains the most common business communication tool. With almost 350 billion messages sent and received every day, it's time to think about how to organize your email.
It's far more than just a messaging medium, however. For many organizations, it's their largest repository of sensitive business information, such as invoices, contracts, and customer contacts. It's obviously important to protect that information, but keeping all those emails and their attachments can overwhelm storage systems. According to one survey, nearly 80 percent of organizations consider email storage bloat to be a problem. Huge inboxes can even affect the performance and stability of Microsoft Outlook.
Email archiving offers an elegant solution. Whether located on-premises or in the cloud, archival solutions allow organizations to securely store, retain, index, search, and retrieve essential email content without placing a burden on the storage infrastructure.
Why Email Archival Is Valuable
Archiving is often confused with backup, but they aren't the same. Backups provide a hedge against disaster by creating a snapshot of everything in your email database at a given point in time. However, this process doesn't organize or index the information, making it time-consuming and difficult to locate specific records. Archiving captures and indexes each record, enabling fast search and retrieval operations.
Archiving is increasingly critical for compliance with multiple government and industry regulations that require long-term retention of emails with the ability to find and produce records on demand. Those features are also important for organizations that are parties to litigation and must produce emails as part of the e-discovery process.
There are other business benefits as well. Email archival helps improve productivity by reducing the time users spend filing and searching for messages. Emails can be encrypted and archived in a tamper-proof repository to minimize the risk of a breach. Archiving also supports business continuity by ensuring critical emails and information can be accessed in the event of a server crash or some other type of outage.
Industry-Specific Benefits
Email archival can benefit any organization, but these five sectors should make email archiving a priority:
Legal. Attorneys and their clients conduct a significant amount of communication via emails, many of which contain information relevant to litigation. As such, they are subject to various regulations designed to ensure the confidentiality of those communications and protect evidence. An email archive solution ensures regulatory compliance, provides long-term data retention, and creates an audit trail.
Healthcare. Under HIPAA, healthcare organizations must ensure the confidentiality, integrity, and availability of protected health information. HIPAA doesn't specifically require email archiving, but encryption and tamper-proof repositories help protect privacy. Archives also make it easy to meet HIPAA requirements to retain electronic records for at least six years.
Education. The Freedom of Information Act (FOIA) and the Family Education Rights and Privacy Act (FERPA) are among the regulations governing the retention, storage, and accessibility of emails by educational institutions. Archiving solutions help schools meet federal mandates for data retention. They also give schools a great deal of oversight and control over emails containing sensitive information about students.
Financial services. Financial services firms frequently use email to discuss investments, stock prices, and securities transactions with their clients. The Securities and Exchange Commission (SEC) requires firms to preserve and manage these emails in systems with automated record retention, record indexing with time and date stamps, immutable retention, and record preservation for three years or more.
How Mainstream Can Help
The Mainstream team has specific expertise in email platforms as well as storage and cloud solutions. Let us help you select and implement an email archival solution that increases efficiency, enhances security, and better prepares you to meet legal and regulatory requirements.
ABOUT MAINSTREAM TECHNOLOGIES
Mainstream Technologies delivers a full range of technology services in Arkansas and the surrounding region including managed technology services and consulting, custom software development, and cybersecurity services. We also offer industry-leading data center services in our Little Rock facilities. Established in 1996, Mainstream has earned a reputation for delivering quality, reliable, and professional technology services for public and private-sector customers across the United States.
Jeff Pracht
IT Business Development Manager
(479) 715-8629 Office
(501) 529-0008 Mobile