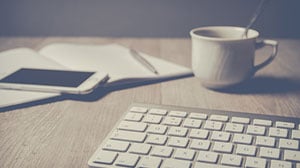 (May 19, 2022) When remote work became a necessity two years ago, many business leaders were skeptical that employees would maintain the same levels of productivity and customer service away from the office. To their surprise, remote work has been highly successful — so much so that many organizations are focused on optimizing the hybrid workplace.
According to one recent study, 82 percent of organizations are implementing programs in which employees spend some of their time in the office and some of their time working remotely. This allows companies to reduce real estate costs and tap a larger talent pool while enhancing job satisfaction through greater flexibility.
Optimizing the hybrid workplace requires a four-pronged approach. Organizations need to address the interrelated issues of people, policies, technology, and support to ensure that the hybrid work model is successful.
Addressing Cultural Challenges
The "people" element of the hybrid workplace has to do with corporate culture. Most organizations have built a corporate culture around in-office work styles with onsite managerial oversight. That was turned on its head with the rapid shift to remote work amid pandemic-related restrictions. However, many organizations merely "accommodated" remote work as a temporary necessity rather than a permanent fixture.
The hybrid workplace adds a new wrinkle. When employees split time between onsite and remote work, managers must adjust seamlessly to different work styles. This requires a culture and vision that's independent of location. The culture must be built on shared trust and high levels of engagement.
Putting Policies in Place
The hybrid work culture must be supported by strong policies that establish how the model operates in practice. Some employees may not understand why they need to come into the office at all, so it's important to outline the reasoning behind a hybrid work model. The policies should clarify who is eligible for remote or hybrid work, when employees should be onsite, and what is expected of employees when they're working remotely.
The right policies also help ensure that remote workers are valued and supported in the same way as in-office workers, and have the same opportunities for growth advancement. At the same time, remote workers must have the same level of accountability as in-office workers.
Getting the Technology Right
The policies are in turn supported by technologies that facilitate remote and hybrid work. A key component is an enterprise-class collaboration platform that makes it easy to access voice, chat, video conferencing, file sharing, and other features and seamlessly shift among them. Ideally, organizations should standardize on a single platform that is monitored and managed by qualified IT professionals. Appropriate security and privacy controls are also required to protect sensitive data.
An ongoing hybrid arrangement may require organizations to invest in business-grade laptops rather than having employees use their personal devices when working from home. With the right security monitoring, data leak prevention, and mobile device management tools, organizations can mitigate much of the risk hybrid work poses to the security of important data.
Ensuring Proper Support
Finally, it's important to ensure that employees have responsive IT support no matter where they are working. If remote workers must wait hours for a callback from the help desk, productivity will certainly suffer. And if patches and updates aren't applied promptly and consistently across the extended enterprise, hackers will exploit those vulnerabilities to spread malware and steal data.
A managed services provider (MSP) can be a critical ally in the hybrid work model. Armed with the tools, methodologies, and staff needed for remote support, the MSP can provide the help needed to ensure that employees stay happy and productive and the organization stays secure.
ABOUT MAINSTREAM TECHNOLOGIES
Mainstream Technologies delivers a full range of technology services in Arkansas and the surrounding region including managed technology services and consulting custom software development and cybersecurity services. We also offer industry-leading data center services in our Little Rock facilities. Established in 1996, Mainstream has earned a reputation for delivering quality, reliable, and professional technology services for public and private-sector customers across the United States.
Jeff Pracht
IT Business Development Manager
(479) 715-8629 Office
(501) 529-0008 Mobile