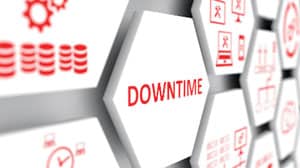 (February 2, 2023) Most businesses today simply cannot function without the around-the-clock availability of their IT systems. At the same time, there are more opportunities for failure. IT resources are distributed across an extended environment that consists of onsite servers and storage, cloud platforms, edge sites, and endpoint devices. That's why monitoring IT systems is the key to avoiding downtime. Organizations of all sizes must keep a constant watch on IT systems to ensure they are performing properly. Even a short interruption in service can be financially crippling.
A company with 50 employees and $10 million in revenue would stand to lose almost $50,000 in a one-day outage. According to data from the Bureau of Labor Statistics, compensation and benefits average about $36 per hour per employee. Assuming downtime caused 75 percent productivity loss, that's $1,350 per hour. From a revenue perspective, our fictitious company would lose about $4,800 per hour. Add those two numbers together and multiply by 8 and it comes to $49,200.
IT downtime is all too common. In the Uptime Institute's 2022 Data Center Resiliency Survey, 80 percent of respondents said they had experienced at least one outage in the preceding three years, with 20 percent reporting a significant outage.
Limitations of Traditional Monitoring Tools
Network monitoring is the No. 1 solution for minimizing downtime. However, the growing complexity of today's networks is outstripping the effectiveness of traditional monitoring tools.
One of the most basic techniques is simply to ping a system — that is, send out a signal and record whether that signal was received, how long it took to get there, and other information. With Syslog, administrators can configure devices to send an alert when they shut down or encounter an error. Simple Network Management Protocol (SNMP) uses agents installed on each device to collect information on metrics such as availability, throughput, bandwidth utilization, and latency. However, today's complex IT environment makes it challenging to identify the root cause of issues.
Virtualization, cloud computing, and mobility add to network workloads and complexity. Voice over IP and unified communications (UC) platforms also create monitoring challenges. With voice, video, and data traversing wired and wireless networks, traditional monitoring solutions often cannot pinpoint exactly where a problem is located or how to address it.
A new generation of monitoring tools eases the strain with improved network visibility, proactive management, and forensic analysis. These tools can support multiple network protocols, and scale to cover physical and virtual servers, various storage devices, and cloud platforms. They minimize the need to administer individual devices using command-line interfaces.
The Value of Partnering with an MSP
Best-in-class monitoring tools go beyond traditional metrics, enabling organizations to identify underutilized resources. User-friendly graphical interfaces can be set up to display resource usage and allow administrators to adjust configurations. Administrators can also set thresholds that would indicate a problem and have the software generate a notification.
These latest monitoring tools require significant investments and expertise. For organizations with limited staff resources, it can make better sense to work with a managed services provider (MSP). Qualified MSPs have already invested in monitoring tools that are managed by a team of knowledgeable technicians.
Outsourcing delivers significant bottom-line benefits by identifying potential issues before there is an actual disruption. This enables organizations to avoid downtime and data loss rather than simply getting things fixed after they break. Of course, not all problems can be prevented, but monitoring and management tools enable the MSP to resolve issues without the delay and disruption of an onsite service call.
Increasing network complexity can obscure visibility into critical infrastructure and operations. Monitoring can help you gain a better understanding of what is going on inside the network and what steps you need to take to avoid the potentially crippling costs of downtime.
ABOUT MAINSTREAM TECHNOLOGIES
Mainstream Technologies delivers a full range of technology services in Arkansas and the surrounding region including managed technology services and consulting, custom software development, and cybersecurity services. We also offer industry-leading data center services in our Little Rock facilities. Established in 1996, Mainstream has earned a reputation for delivering quality, reliable, and professional technology services for public and private-sector customers across the United States.
Jeff Pracht
IT Business Development Manager
(479) 715-8629 Office
(501) 529-0008 Mobile