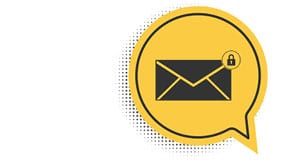 (July 1, 2021) We've been talking about the importance of protecting sensitive data stored in Microsoft 365, and some of the security tools that Microsoft provides to customers. The Microsoft Secure Score feature, multifactor authentication, administrator account protection, and malware and ransomware protection are built into both the Microsoft 365 Business Standard and Premium subscriptions.
Microsoft 365 Business Premium offers advanced security tools that help protect against data exposure and evolving security threats.
Message Encryption
If email messages are not encrypted, the contents can be read by unintended recipients or malicious actors. Microsoft 365 email encryption helps protect messages containing sensitive information, including the ability to restrict forwarding of messages to additional recipients.
Office Message Encryption (OME) is included with Microsoft 365 Business Premium, making it simple to send and receive encrypted messages. In legacy email encryption tools, users often struggled to encrypt and sign messages, find and verify other users' public encryption keys, and share their own keys. Microsoft 365 OME removes this complexity and greatly simplifies the process of information protection.
In Outlook, users can opt to encrypt a message by selecting Options then choosing Permissions. No special client-side software is required. For the recipient, Microsoft 365 handles message decryption using a key or by validating the recipient's identity. Office Message Encryption also works with Outlook.com, Gmail and other services.
Phishing Protection
Phishing is one of the most serious threats organizations face today. Malware, ransomware and other types of attacks are often distributed via phishing.
Microsoft Defender for Office 365 includes a feature that can help protect organizations from phishing attacks, such as malicious emails that impersonate someone from within the organization. Administrators can define enhanced polices to protect staff often targeted by phishing, such as accounting or purchasing. If Microsoft 365 determines that an email comes from an impersonated user, the message can be quarantined for further analysis.
Safe Attachments
Microsoft 365 Business Standard allows administrators to block attachments with file types that are commonly used for malware. The Premium edition goes further with the Safe Attachments feature. Part of Microsoft Defender for Office 365, Safe Attachments provides another layer of protection for attachments that have already been scanned for malware. The feature conducts additional analysis by simulating the opening of the attachment and monitoring its behavior. Messages deemed suspicious can be blocked or quarantined and a warning sent to the recipient.
Safe Links
Safe Links is another component of Microsoft Defender for Office 365. Like Safe Attachments, it provides an additional layer of protection by analyzing web addresses in email messages and Office documents in real time. If a link is found to be malicious, the link is blocked and a waring message sent to the user.
Security Training
Microsoft also recommends that organizations provide users with regular security training so that they can recognize threats and follow best practices. This includes using strong passwords, protecting their devices, and using the security features built into Windows and Mac PCs.
A Managed Services Provider Can Help
Microsoft 365 includes an advanced suite of security features to help mitigate risk associated with malware, data loss and leakage, and business email compromise. Microsoft is not responsible for securing an organization's Microsoft 365 tenant. Therefore, organizations must take steps to enable Microsoft 365 security controls and configure them properly. Understanding which features to enable and how to properly define policies can be a complex and time-consuming process.
A qualified managed services provider (MSP) can help organizations assess their security controls and identify gaps that could heighten the risk of attack. The MSP can then develop a layered security approach that protects the entire environment, including Microsoft 365.
ABOUT MAINSTREAM TECHNOLOGIES
Mainstream Technologies delivers a full range of technology services in Arkansas and the surrounding region including managed technology services and consulting custom software development and cybersecurity services. We also offer industry-leading data center services in our Little Rock facilities. Established in 1996, Mainstream has earned a reputation for delivering quality, reliable, and professional technology services for public and private-sector customers across the United States.
Jeff Pracht
IT Business Development Manager
(479) 715-8629 Office
(501) 529-0008 Mobile