(October 12, 2023) Smaller businesses increasingly seek managed IT service providers who offer consultative services and strategic guidance.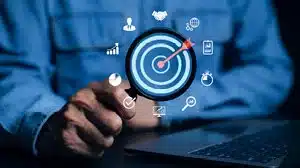 Managed IT services arrangements provide small and midsized businesses (SMBs) with budget-friendly alternatives to keeping seasoned IT professionals on payroll. However, recent research finds that the relationship between SMBs and managed services providers (MSPs) is undergoing an important shift.
For decades, small companies with limited IT staff largely depended on MSPs to provide basic network management, security, and break/fix services. However, a new Techaisle study reports that these relationships have evolved into more strategic partnerships. Conventional services remain essential. However, the survey of more than 5,100 SMBs and midmarket firms reflects an increased emphasis on transformative technologies and emerging trends.
Defining Goals
Respondents say they increasingly seek advisory support rather than simple fee-for-service arrangements. In particular, they seek providers catering to more demanding initiatives such as business process automation, cloud management, analytics, artificial intelligence, and edge computing. Seventy-nine percent of SMBs and 97 percent of upper midmarket firms say managed services as essential for achieving their operational goals.
"IT is a critical business issue within SMBs and has become more complex and labor-intensive. In response, SMBs have turned to managed services … (which) themselves are becoming more complex," Techaisle Founder Anurag Agrawal wrote in his summary of the study.
SMBs spent $337 billion on IT and managed services in 2022, according to a separate study from Analysys Mason. The firm projects that will grow to $406 billion by 2026 as demand for consultative IT support grows.
"Increased complexity is the primary reason SMBs are seeking more strategic advice," said Mark McClelland, co-founder and vice president of Mainstream Technologies. "Efforts to modernize IT infrastructure and improve digital capabilities are often stymied by increasingly dense and complex IT infrastructures and application environments. Without dedicated IT personnel, SMBs often struggle to define their long-term technology goals. MSPs with a consultative approach can help them develop comprehensive IT strategies aligned with their business objectives."
What to Look For
Comprehensive assessments are among the tools providers use to help SMBs develop an effective technology roadmap. During this process, the MSP systematically evaluates hardware, software, network capabilities, security measures, and overall IT infrastructure. The MSP will then provide thorough documentation, performance benchmarks, risk analysis, compliance requirements, and other recommendations. The objective is to optimize the technology environment, enhance operational efficiency, mitigate risks, and drive long-term growth and competitiveness.
"Choosing a reliable MSP requires a thorough evaluation process to ensure they understand your business and can provide effective guidance," McClelland said. "Although there's often an inclination to shop based on price, small businesses should consider a range of important attributes when assessing potential technology providers."
Top considerations include:
Relevant experience. Look for well-established firms with proven experience in your required technologies and services. Request customer referrals and testimonials to gauge their past performance.
Effective onboarding processes. The provider should have a well-defined onboarding process that allows them to gain insight into your IT environment, business processes, employee responsibilities, and vendor agreements. This sets the foundation for a successful partnership.
Comprehensive assessments. Before beginning work, MSPs should conduct thorough assessments of your IT environment. This includes evaluating hardware and software portfolios, service levels, device configurations, bandwidth, power levels, and security vulnerabilities.
Customizable services. While network monitoring and maintenance are common offerings, you may need more specialized services such as network design, managed security services, help desk support, or Level 3 engineering support. Look for a provider with proficiency in various technical disciplines — and a willingness to tailor them to your specific needs.
Strategic planning. MSPs should guide management and strategic initiatives, going beyond basic IT functions. Some may even offer virtual CIO services, assisting with the creation of a roadmap for adopting cutting-edge solutions.
Facilities. Take a tour of the provider's facilities to assess their technical capabilities. Determine if they have their own network operations center (NOC) or if they outsource these services. Ensure any contractual arrangements they have with their providers align with your business requirements.
Vendor relationships. Leading MSPs maintain close relationships with established vendors, enabling them to offer support, direction, product discounts, engineering expertise, and faster order fulfillment to their customers.
Remote support. Given the prevalence of remote work, seek an MSP with experience in providing remote monitoring and management. Additionally, look for providers who can offer 24×7 help desk support to address technical issues encountered by remote employees working unusual hours.
ABOUT MAINSTREAM TECHNOLOGIES
Mainstream Technologies delivers a full range of technology services in Arkansas and the surrounding region including managed technology services and consulting, custom software development, and cybersecurity services. We also offer industry-leading data center services in our Little Rock facilities. Established in 1996, Mainstream has earned a reputation for delivering quality, reliable, and professional technology services for public and private-sector customers across the United States.
Jeff Pracht
IT Business Development Manager
(479) 715-8629 Office
(501) 529-0008 Mobile