A single tool or policy is not enough
(Little Rock, AR) – (March 9, 2020) – Mainstream Technologies recently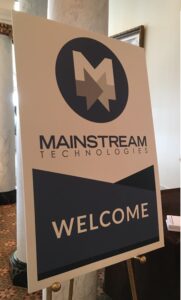 hosted a group of Central Arkansas business people with a panel discussion on cyber security. Discussions focused on the need for a layered approach because no one tool or policy is going to defend against all the attacks all the time. Panelists included Jason Lafayette, Director of Technology at The Wilson Law Group; Greg McKee, CIO of Friday Eldredge & Clark; and Daniel Weatherly, Director of Security at Mainstream.
An assortment of tools and tactics are needed to effectively protect one's organization with six layers:
Firewalls
Email protection
Browsing protection
Brute force protection
Human protection (training)
Detection (alerts on active attacks).
"Knowing the purpose and role of each of these tools is essential for cost-effective and comprehensive cyber security," added John Burgess, President and Chief Security Officer of Mainstream.
The Lunch & Learn event was Mainstream's most recent addition to business content on the subject of cyber security.
ABOUT MAINSTREAM
Since 1996, Mainstream (www.mainstream-tech.com) has evolved into one of the most established IT services companies in the Mid-South, serving clients from its Arkansas locations including headquarters in Little Rock, a second operations facility in Conway, as well as a sales office in Bentonville. Their staff of information technology professionals serves business and government customers across the nation with Managed IT Services, Custom Software Development Services, Cyber Security Services, and Hosting.
# # #