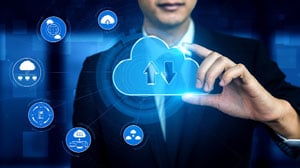 (January 19, 2021) Cloud adoption continues to proliferate information technology. However, it's easy to spend too much on cloud computing if you don't follow some simple guidelines.
It may seem "cheaper" to move applications to the cloud than to purchase and implement new on-premises equipment. However, the subscription cost of cloud services can easily exceed your budget if you do not understand cloud billing models and thoroughly evaluate your workloads and business objectives.
Understanding Cloud Billing
Cloud-based solutions make it easier for organizations to extend applications and data to employees, especially those working remotely. Cloud computing also allows organizations to shift IT costs from CAPEX to OPEX and gain rapid scalability.
The cloud is not a panacea, however. Cloud solutions are seldom a one-for-one replacement for on-premises technology in terms of cost or complexity.
Most people associate cloud computing with the consumption-based model — you pay only for what you use, like a utility. That can be attractive to businesses, especially those looking to control CAPEX.
But cloud pricing is more complex than it appears at first glance. Costs can vary widely depending upon the service, compute load, geographic region, and add-on features. Licensing costs also must be included.
To even begin calculating your cloud expenses, you must know how many virtual machines (VMs) will be needed and the specifications of those VMs in terms of memory and processing power. VMs hosting databases may be better candidates for migration to database-as-service instances. Storage also must be included in the calculation. The cost per gigabyte of storage depends upon the performance required, the volume of data, and other factors.
Adding to that complexity is the fact that workload resource consumption can vary over time. Managing monthly cloud spend requires careful attention to underutilization and overutilization. Not surprisingly, many organizations struggle to forecast their cloud costs accurately.
An alternative is dedicated cloud instances, in which you commit to paying for a certain amount of cloud resources regardless of whether you use them. At first glance, this might appear to be more expensive than the consumption-based model, but it provides more predictable costs that are easier to budget. What's more, public cloud providers typically offer discounts for dedicated instances.
Getting a Handle on Cloud Costs
It's important to analyze your workloads thoroughly before moving them to the cloud. Most cloud providers provide tools to help forecast monthly costs. Invest the time to perform the analysis and carefully evaluate alternatives before making a commitment.
From a business perspective, clearly defining objectives is also important. What does the business hope to gain from the move to the cloud? Improved stability and availability? Reduced CAPEX? Predictable costs? Rapid scalability? The cloud can be a good fit in these circumstances depending on the application.
Is the business averse to long-term commitments, some loss of IT visibility and control, or variable monthly costs? In these cases, the cloud may not be a good fit. A careful analysis of existing applications may determine that a traditional on-premises solution or a hybrid approach is a better option.
Mainstream Technologies has expertise in both on-premises and cloud-based solutions and can help guide you through the cost-benefit analysis. We also offer virtual private servers in our private cloud that give you flexibility and scalability with a predictable monthly budget. Let's sit down to discuss your needs and determine the best approach to ensure technology is a driver that helps your business meet its objectives.
ABOUT MAINSTREAM TECHNOLOGIES
Mainstream Technologies delivers a full range of IT services in Arkansas and the surrounding region including IT management and consulting custom software development, and cybersecurity. We also offer industry-leading data center services in our Little Rock facilities. Established in 1996, Mainstream has earned a reputation for delivering quality, reliable, and professional technology services for public- and private-sector customers across the United States.
Jeff Pracht
IT Business Development Manager
(479) 715-8629 Office
(501) 529-0008 Mobile