Organizations must adapt their IT strategies and
budget to meet changing business demands.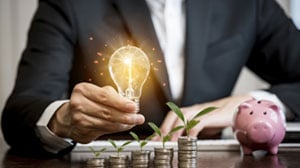 (June 10, 2021) Developing IT strategies and budget is a tough job under the best of circumstances. However, it has been especially challenging this year because of the coronavirus pandemic. Although business activities are slowly returning to pre-pandemic levels, many organizations continue to face economic uncertainty that makes them reluctant to spend money.
That said, most business leaders recognize that they must continue to invest in IT solutions in order to remain competitive. Those organizations that continued to thrive had the technology resources to quickly shift to remote work models. As a result, many organizations are stepping up their digital transformation initiatives to better leverage technology to reduce costs, increase productivity, create new revenue streams, and better serve customers.
"For the past several years, a sizeable chunk of IT spending has gone toward security, cloud services and replacing aging IT infrastructure," said Mark McClelland, co-founder and vice president of Mainstream Technologies. "While those will remain important considerations, remote work and digital transformation will command a larger share of tighter IT budgets. Through its virtual CIO services, Mainstream is helping organizations develop a technology roadmap that positions IT as a business driver."
Doing More with Less
Almost two-thirds of business leaders responding to a recent TechRepublic survey said that COVID-19 would force them to tighten their 2021 IT budgets and change their spending priorities. More than a quarter said they would spend more on technologies that enable remote work and 22 percent plan to spend more on security. To offset spending in those areas, 17 percent planned to postpone major projects.
While it might be necessary to pause deployments of new technologies, postpone hardware replacements and delay software upgrades temporarily, organizations must avoid the trap of making permanent cuts across the board. Conversations around IT budget and strategy must recognize that technology improvements are key to both short- and long-term business survival.
"During the rush to remote work caused by the pandemic, it quickly became clear that technology is the glue that keeps businesses and employees connected," said Peter Tsai, senior technology analyst at Spiceworks Ziff Davis. "With more people working remotely than ever before and face-to-face meetings out of the question, organizations wouldn't have been able to maintain business continuity or keep productivity levels high without the many technologies companies rely on."
Key Considerations
To ensure a meaningful discussion that addresses the value IT delivers to the organization, it is important to create a budget that makes it easy for the management team to understand how IT expenditures not only support immediate business needs but will also drive enhancements and innovations. Here are some suggestions for review when developing an IT budget and strategy:
Be Realistic. IT leaders must understand the current economic realities and work with management to meet budget objectives where possible. Work with stakeholders in every department to ensure budget requests support an overall IT strategy designed to help the company be more efficient and competitive.
Show Them the Money. Categorize expenses so management can see where and how IT dollars are being spent. At a basic level, IT costs should be broken down by staffing, hardware, software, licensing, public cloud, and support costs. For a more detailed view, track costs for energy and utilities, IT real estate, voice, and data carrier fees, and vendor costs. Don't forget to include taxes and any other associated expenses.
Aim for the Cloud. Given the rapidly changing nature of technology, it often makes more sense to acquire IT resources for a monthly fee (OpEx) than to purchase them outright (CapEx). This not only creates budget flexibility but provides a hedge against the risk of IT purchases that prove to be inadequate or ineffective. Technology-as-a-service solutions and traditional equipment leasing models are also effective ways to shift to a pay-as-you-go approach.
Don't Skimp on Security. The business and financial consequences of data breaches and malware attacks can be devastating. Take the time to lay out what entry points a hacker might exploit and focus security investments accordingly. Remote workers are a particularly inviting target, so budget for endpoint security and multifactor authentication.
The global pandemic has disrupted businesses worldwide and slowing revenues have forced organizations across all industries to tighten their belts. However, businesses must continue to invest in technology to support and secure a remote workforce. Organizations should take a fresh look at their IT budgets and strategies to ensure that technology investments continue to meet today's business requirements.
ABOUT MAINSTREAM TECHNOLOGIES
Mainstream Technologies is a Little Rock IT services firm that offers managed technology services and consulting, custom software development, and cybersecurity services. We also offer industry-leading data center services in our Little Rock facilities. Established in 1996, Mainstream has earned a reputation for delivering quality, reliable, and professional technology services for public and private-sector customers across the United States.