In Part 1, we began with the assessment phase, and the three critical factors of (1) Processes (2) Technology and (3)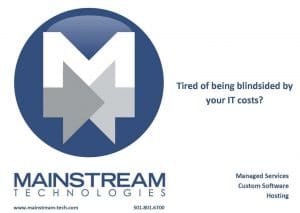 People. As we address the Action Plan, these three factors will continue to be fundamental to reducing your IT expenses and clarify your Managed Services needs.
The goal of the assessment [see Part 1] was to identify gaps in your processes and IT system so you can create an Action Plan to address the gaps. As you develop an Action Plan, it may be helpful to classify these types of gaps:
•   Group 1: Places where IT works — for now;
•   Group 2: Places where IT is present but doesn't fully support your business processes; and
•   Group 3: Places where IT is not supporting your bottom line efforts at all.
The idea is to redirect IT expenses to initiatives that can move the business forward.  Let's look at how these types of IT gaps might be addressed in your Action Plan.
Group 1: IT is working for now
On the surface, it may appear that these items are meant to be left alone since they are currently working, as they should. However, as you complete the list for Group 1, you may want to consider getting an unbiased, second opinion from an IT professional. While it may look like it's working well to the end user, an IT professional may agree that these aspects of your IT assets are working for now, but there may be a window in which you're going to exceed the capacity of the software or the hardware. They may not be able to tell you when, but they know that you're eating up memory, even as you speak. The implications? The need to make plans for when you cross those thresholds!
And while they're at it, they may want you to consider if there are more cost effective ways to keep your IT up and running. The technology is in place and it addresses all the business functions, but the cost may be out of scale. For example, let's say you have two servers. You have someone on staff that uses about 30% of their time making sure those two servers are up and running. You may also have an IT firm that you call on an as-needed basis.
But what does it cost to operate those two servers for another 3-5 years? You have the purchase price of hardware, plus 30% of the in-house person's salary, service calls to your IT provider, security, utilities, other ancillary costs to make sure it's up and running. As you compile the total cost of this scenario, you may want to consider other alternatives such as hosting those two servers in the cloud. So, instead of juggling all the different parts and invoices, you could trade it all off for one monthly fee in the cloud! (Side bar: Industry experts will tell you that over the lifecycle of an IT asset, 25% of the investment is purchase price, and 75% of the investment is supporting that asset.)
Hopefully, the IT professional you have engaged for a second opinion will be thorough, and won't stop there. He may also want you to consider:
•   How are you positioned for future growth?
•   How long before you discover that what you have will not get you where you want to go?
•   Do you have proper levels of security and data protection in place?
Now, Group 1 processes and components may have at least three sub-strata:
(a)      Maintain status quo;
(b)      Commit to more cost effective options; and
(c)      Forecast the trajectory of future growth demands where IT capacity needs to evolve.
Your Action Plan for Group 1 now has been segmented by action status and timing, making it all more manageable and thorough.
Group 2: IT is not fully supportive
The gaps in this group will include technology that does not fully support your processes. For example, let's say you currently print out an order but you have to manually input the data into another system like QuickBooks. With new technology, you could automatically convert an estimate to an order, and an order into an invoice!
Another type of gap is where technology is supposed to support a business process, but it is clunky. Let's say you've invested in a CRM that is not intuitive, and is very clunky to use. It requires a dedicated sever and resources to support it. The staff will not use it because connecting to it remotely is very difficult, and it is not user friendly in other ways. This type of a gap generates an IT expense can create revenue loss because you don't have an accurate database for marketing. You can't track leads, or even review an opportunity pipeline. In this case, it might be time to move to the cloud for a CRM that is easy to use, easy to connect to, and doesn't require dedicated hardware, software, and resources to support and manage it!
Group 3: IT is not present
Once you've identified processes that currently are unsupported by IT, consider the implications with a critical eye.
•   Is there any value to automating/using IT in those processes?
•   What are the IT expenses to the business?
•   Is there a solution for certain processes? What's the cost of implementing the solution?
•   What's the return or savings in additional business from having IT support it?
•   Do you have IT skill sets in place to support the new/additional technology? Should you consider outsourcing to get new hardware and software?
Once you've classified the gaps, you may want to evaluate the urgency of each, and assign priority rankings to get you started on your Action Plan.
Managed Services: Another form of business insurance
As you begin your IT assessment and action plan, consider this as a framework for the process:
       Documentation of your entire network
       Monitoring functions
       Help Desk services
       Planning services
       Quarterly reviews
Your IT assessment and Action Plan will give you the ability redirect IT expenses, think strategically about leveraging IT for your business, with the assurance that day-to-day operations are being handled.  IT expenses will be redirected from "remediation" to strategic initiatives.  You will know before hand when it's critical to start taking steps before reaching thresholds. There will be no need to let your capacity or skill sets slow you down. Your biggest challenge will be deciding what to do with all the extra effort and time that's at your disposal!
ABOUT MAINSTREAM TECHNOLOGIES
Mainstream Technologies, a Little Rock, Arkansas technology provider offers, managed technology services, technology consulting, custom software development, data center services, and cybersecurity services. Established in 1996, Mainstream has earned a reputation for delivering quality, reliable, and professional technology services for public and private-sector customers across the United States.
Jeff Pracht
IT Business Development Manager
(479) 715-8629 Office
(501) 529-0008 Mobile