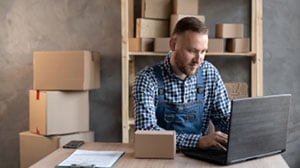 (October 11, 2021) Many small to midsize businesses (SMBs) hire one or more IT generalists to handle the administration, maintenance, and support of their computer systems and networks. However, managing today's complex IT environment requires a diverse set of skills.
The IT generalist is still a valuable employee to have on staff. However, many organizations will need help from experienced consultants and engineers with expertise across a wide range of technology solutions. Partnering with an MSP provides access to that expertise on demand.
SMBs have growing portfolios of cloud applications and services, along with the systems and software they maintain on-premises. Growing numbers of users have devices with different operating systems, versions, and applications. Many SMBs are also looking to modernize their IT environments, enhance security, and leverage public cloud and SaaS offerings to streamline operations.
In-House IT Challenges
In-house IT teams can struggle to keep up with the technology demands of the business. Day-to-day administrative tasks consume well over 80 percent of the IT team's time, and complex issues take longer to resolve.
These challenges become more acute as the organization grows. Overstretched IT teams may be forced to make tradeoffs as various business units, locations and users compete for their attention. These IT support constraints can harm a company in ways nobody realizes. Busy IT generalists are required to focus on keeping systems up and running and have little time for strategic upgrades that could improve operations and deliver substantial cost savings.
Few SMBs have the budget for a full staff of IT specialists, however. Even if they did, it can be difficult to hire IT professionals in today's competitive market. In-demand skill sets such as cloud and cybersecurity can be particularly hard to find. IT initiatives may be delayed because the organization lacks the resources needed for long-term management of the solution.
The MSP Advantage
Some organizations believe that outsourcing to an MSP is more expensive than in-house IT management. However, the salary range for a Level I support technician is $40,000 to $60,000 a year, according to PayScale. IT professionals with specialized skills command much higher salaries. By partnering with an MSP, organizations gain access to these skills for a cost-efficient monthly fee.
Of course, it's important to choose an MSP that has a staff of engineers and technicians with the skill sets needed to support the entire IT environment. Also, look for a managed services solution that provides unlimited support. Support hours can vary significantly from month to month. Monthly caps can increase costs and risk and limit the organization's ability to advance its IT infrastructure.
A certified managed services provider (MSP) offers practical and cost-effective access to qualified expertise in a broad range of IT disciplines. For a predictable monthly fee, the MSP will ensure that the right resources are available to meet the organization's IT needs.
ABOUT MAINSTREAM TECHNOLOGIES
Mainstream Technologies delivers a full range of technology services in Arkansas and the surrounding region including managed technology services and consulting custom software development and cybersecurity services. We also offer industry-leading data center services in our Little Rock facilities. Established in 1996, Mainstream has earned a reputation for delivering quality, reliable, and professional technology services for public and private-sector customers across the United States.