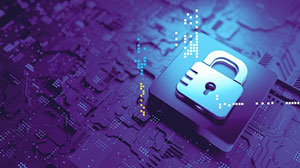 (April 20, 2022) Major security breaches continue to make headlines. New, more sophisticated threats are constantly emerging, and many organizations lack the know-how and tools to combat them effectively. Without an effective approach to cybersecurity, organizations are at greater risk of a potentially devastating security breach. That's why every SMB should outsource cybersecurity. A managed security service provider (MSSP) has the tools and expertise to monitor, manage and maintain the security environment, and respond rapidly to threats. Best-in-class providers also offer assessments, guidance, and implementation services to help organizations bolster their security posture.
The In-House Security Challenge
Many SMBs attempt to monitor systems and apply patches and updates manually. That model is ineffective in today's threat environment. Even the best IT teams struggle to effectively manage the various layers of security that are required to protect company and customer data and meet regulatory requirements.
SMBs often invest in best-in-class security tools, but IT teams often lack the time and expertise to take full advantage of them. This limits the organization's ability to fully capitalize on those investments and leaves gaps that put the business at greater risk. In many cases, security tools aren't tuned properly, and IT teams become overwhelmed with duplicative alerts and false positives and negatives. It's also difficult for IT staff to keep up with the latest vulnerabilities and threats, increasing the risk of a breach.
Finding qualified security personnel is difficult. The IT skills shortage is most acute in the security arena. What's more, few SMBs have the budget to hire cybersecurity professionals and provide the ongoing training and certification they need.
Benefits of Managed Security Services
The scope and complexity of security make in-house security management ineffective, inefficient, and costly. To minimize the risk of a breach and reduce the cost of cybersecurity, outsourcing security to an MSSP is an attractive option for many SMBs.
From a cost perspective, outsourcing is generally less expensive than the capital and operational costs associated with hiring security professionals, purchasing the tools needed to monitor and manage the security infrastructure, and training the staff to utilize those tools effectively.
MSSPs employ a team of highly trained security experts who use the most advanced technology to prevent unauthorized network access and protect sensitive data. Few SMBs can match these resources. What's more, the MSSP's experts are focused exclusively on security, staying abreast of the latest threats and utilizing well-defined methodologies to keep their customers' IT environments secure.
Leading MSSPs offer 24×7, year-round coverage and have a deep bench of professionals who have honed their skills across a wide variety of environments. They provide greater continuity of services and can leverage vendor partnerships to gain early warning of emerging threats.
Choosing the Right MSSP
Best-in-class MSSPs recognize that security is never a one-size-fits-all solution. They will conduct a thorough assessment of the existing environment to identify threats and weaknesses. They will also brief customer stakeholders on the areas of greatest risk to the organization, along with legal and regulatory requirements. They will then tailor a managed security solution and help implement the right tools and processes based on a layered security approach.
Outsourcing cybersecurity makes good business sense, but not all providers are created equal. Some companies claim to offer managed security services, but their capabilities are extremely limited. In our next post, we'll look at some of the factors that organizations should consider when choosing an MSSP.
ABOUT MAINSTREAM TECHNOLOGIES
Mainstream Technologies delivers a full range of technology services in Arkansas and the surrounding region including managed technology services and consulting, custom software development, and cybersecurity services. We also offer industry-leading data center services in our Little Rock facilities. Established in 1996, Mainstream has earned a reputation for delivering quality, reliable, and professional technology services for public and private-sector customers across the United States.
Jeff Pracht
IT Business Development Manager
(479) 715-8629 Office
(501) 529-0008 Mobile