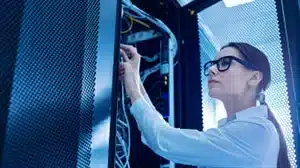 Definition: A hybrid IT environment refers to a combination of on-premises IT infrastructure, private cloud services, and public cloud services.
(May 15, 2023) Continually expanding demand for data processing power and storage is driving increased investments in data center capacity. As a result, the data center market is expected to grow almost 22 percent annually through 2026, according to a new Technavio report. However, only a portion of that spending will be directed toward conventional on-premises infrastructure.
Instead of expanding existing data centers or building new facilities, many organizations are shifting their budget dollars to colocation and hosting facilities. A new report from The Business Research Company finds that data center colocation spending increased more than 17 percent over the past year and that growth is expected to continue through 2027.
Cost is one reason why colocation arrangements are on the upswing. Power, cooling, hardware, software, and staffing are just some of the expenses involved with operating an on-premises data center. A U.S. Chamber of Commerce study found that new data centers cost about $1,300 per square foot, which includes the purchase price of the property, construction costs, building permits, taxes, cabling infrastructure, fire suppression systems, and more.
Colocation and Cloud
Colocation infrastructure eliminates much of the upfront investment required to expand an existing data center or build a new one. In a colo arrangement, you rent space for your servers, storage, and other computing hardware in a third-party provider's data center. Colo services include all the power, cooling, and physical security you need, as well as established connections to a variety of telecommunications and network service providers.
Providers feature robust physical and digital security measures, which help boost regulatory compliance and disaster recovery capabilities. Some providers also offer a variety of leading-edge tools that a smaller organization could never afford to implement in its own private facility. That includes analytics, business intelligence and asset tracking applications, power management solutions, and remote monitoring tools.
Cloud and hosting solutions require even less upfront spending. The provider owns and manages all of the IT equipment as well as the data center infrastructure. Customers pay a monthly fee to run their applications and manage their data within a virtual infrastructure running on the provider's servers.
The Hybrid IT Approach
Few organizations are putting all their IT eggs in one basket. According to the Flexera 2023 State of the Cloud Report, 72 percent of organizations have adopted a hybrid IT approach with a mixture of cloud and on-premises resources. At the same time, organizations are deploying more infrastructure at the network edge, closer to users and devices. The hybrid model gives organizations the flexibility to place workloads according to their performance, availability, accessibility, and security requirements. It also provides the agility to support remote workforces and Internet of Things initiatives that are dependent on real-time data and latency-free communications.
Maintaining these geographically dispersed resources is difficult for all but the largest enterprises with fully staffed teams of engineers and support personnel. For most others, it makes sense to partner with a managed services provider (MSP). Qualified MSPs such as Mainstream can manage and maintain the elements of the IT infrastructure in onsite and edge data centers and help ensure the performance, reliability, and security of the cloud environment. We also offer hosted data center solutions in which we handle most of the administrative and management tasks.
While some organizations still want the total control they can achieve with an on-premises data center, the cost of building or expanding these facilities is becoming unnecessary for many. That's why colocation, cloud, and edge computing are becoming common characteristics of the IT environment. The key to success is to choose a reliable partner who can assist with management and support.
ABOUT MAINSTREAM TECHNOLOGIES
Mainstream Technologies delivers a full range of technology services in Arkansas and the surrounding region including managed technology services and consulting, custom software development, and cybersecurity services. We also offer industry-leading data center services in our Little Rock facilities. Established in 1996, Mainstream has earned a reputation for delivering quality, reliable, and professional technology services for public and private-sector customers across the United States.
Jeff Pracht
IT Business Development Manager
(479) 715-8629 Office
(501) 529-0008 Mobile