Many IT teams are struggling to resolve the technology issues associated with remote work. Managed services can help for the help desk.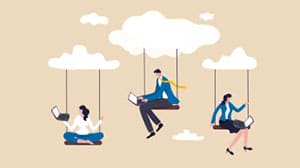 (August 2, 2021) The shift to remote work has largely been successful, enabling organizations to remain operational amid pandemic-related shutdowns and social distancing requirements. In fact, 88 percent of organizations plan to continue to offer remote work at least part-time after the pandemic, according to a recent Gartner survey. Remote work is proven to increase productivity and save thousands of dollars a year per employee in costs.
A recent FlexJobs survey found that 96 percent of employees want some form of remote work, in either full-time (65 percent) or hybrid (31 percent) arrangements. Remote workers report greater job satisfaction and work-life balance.
However, there's one aspect of remote work that employees don't like — IT support. In a recent survey by NetMotion, 48 percent of workers said they prefer the experience of working in the office from an IT perspective. That may be because IT staff have a more difficult time diagnosing the technology issues of employees outside of controlled office settings.
"Because remote workers rely heavily on technology tools, effective IT support is essential for maintaining productivity," said Mark McClelland, co-founder and vice president of Mainstream Technologies. "That's why it makes good business sense to partner with a managed services provider to provide responsive support to workers regardless of location."
Remote Support Challenges
Since the beginning of the COVID-19 pandemic, nearly 75 percent of organizations have seen an increase in support tickets from remote workers, with 46 percent reporting a moderate increase and 29 percent reporting a large increase in workload. This extra burden is straining already overstretched IT teams.
More than 25 percent of IT staff admit struggling to diagnose the root cause of remote worker issues. Ensuring reliable network performance was cited as the top challenge, with 46 percent reporting the problem. Other challenges include application issues (43 percent), cybersecurity (43 percent), and hardware performance and configuration (38 percent).
While 66 percent of remote workers reported encountering an IT issue while working remotely, 58 percent said they did not share those issues with their IT team. Of the issues they reported to IT, only 46 percent were fully resolved.
As a result, the remote work dynamic is straining the IT-employee relationship, with remote workers not fully trusting the IT help desk to provide the help they need. While 45 percent of remote workers say their IT department values employee feedback, 26 percent said they didn't feel that their feedback would change anything. In addition, tech leaders tend to overestimate the experience of remote workers, with IT estimating the quality of the remote work to be 21 percent higher than remote workers rated it.
How Managed Services Can Help
That's why help desk outsourcing makes sense for many organizations. By outsourcing at least some end-user support requests to a managed services provider (MSP), remote workers can get more rapid support while enabling in-house IT staff to focus on critical systems and strategic initiatives.
Qualified MSPs have made investments in remote monitoring and management tools that allow them to troubleshoot systems quickly. The MSP's dedicated support team will have expertise across a wide range of technologies and methodologies that enable them to fully resolve problems. Additionally, the MSP can manage and maintain remote systems to minimize the risk of downtime and security threats.
In the past, some organizations were hesitant to outsource support due to the relationship between in-house IT and end-users. Remote work has changed that dynamic. The MSP can assume all responsibility for support or work in concert with in-house IT staff in a comanaged relationship that helps ensure productivity and a high-quality user experience.
"Although remote work offers many benefits to both employers and employees, organizations need to ensure that work-from-home staff has highly responsive and effective IT support," said McClelland. Partnering with a certified MSP can relieve some of the burdens on the in-house staff help desk while ensuring remote workers get the help they need.
ABOUT MAINSTREAM TECHNOLOGIES
Mainstream Technologies is an Arkansas Managed Service provider in Little Rock, AR. We also offer custom software development, data center, and cybersecurity services. Established in 1996, Mainstream has earned a reputation for delivering quality, reliable, and professional technology services for public and private-sector customers across the United States.
Jeff Pracht
IT Business Development Manager
(479) 715-8629 Office
(501) 529-0008 Mobile