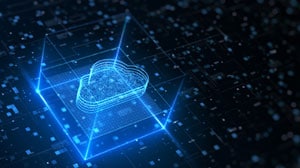 (January 13, 2021) The year 2020 demonstrated how important technology is for maintaining normal business operations. As we enter a new year facing similar economic and collaborative challenges, here are four important technology strategies for small/medium businesses that can help further transform IT into a business driver.
Accelerate Cloud Adoption
Email and file storage are ideal candidates for transition to a cloud service such as Office 365.  These services eliminate the need to maintain on-premises servers and storage dedicated to these functions, freeing up resources, easing the IT management burden, providing increased security, and helping to decrease capital expenses on equipment and licensing.
Cloud providers such as Microsoft Azure also provide an on-ramp for broader cloud adoption.  The ability to provision servers and infrastructure in the cloud provides the flexibility to adapt to changing business conditions without significant capital expense. A hybrid approach, with servers and applications residing on-premises and in the cloud, is an ideal environment for conducting proof-of-concept testing while evaluating how cloud adoption can best benefit the business.
Reconsider Data Center Investments
Many businesses still maintain servers and infrastructure in an on-premises data center. Space, power, cooling, and maintenance requirements for these facilities can contribute significantly to IT costs.
Readily available bandwidth at reasonable prices has allowed many to rethink their on-premises data center investments in favor of a colocation facility. Colocation reduces the on-premises equipment footprint while providing the benefit of hosting mission-critical applications and data in a secure and highly available environment.
A quality colocation facility will provide controlled access, redundant power, redundant cooling, and generator backup for a predictable monthly price. These capabilities are costly for small/medium businesses to implement and maintain on-premises and are often limiting factors for ensuring application and data availability.
Modernize Legacy Applications
Legacy applications are pervasive in small/medium businesses. In many instances, these applications were not architected for today's mobile, web, and cloud deployment strategies.  Legacy applications can be difficult to integrate and costly to maintain.
Businesses are increasingly looking to hosted applications, or Software-as-a-Service (SaaS), where the application is provided as a cloud-based service and maintained by the vendor.  Others are seeking to preserve existing app functionality while extending the interface to mobile devices or the web through version upgrades or vendor-provided add-ons. Regardless of approach, modernizing legacy applications should be part of an overall technology strategy, ensuring an organization can quickly adapt to rapidly changing business and technology requirements.
Seek Outside Expertise
Developing a strategic technology plan while keeping up with day-to-day business operations, customer service and IT support tasks can be challenging for any leadership team. Seeking outside assistance from an experienced technology provider can help facilitate the planning process.
A quality managed services provider (MSP) can help guide planning by providing valuable input and the collective expertise gained by working in numerous diverse environments. Many MSPs are also vendor-neutral, meaning they are not compensated by hardware or software vendors to promote a solution. A vendor-neutral technology provider can provide a truly independent point of view, backed by their real-world experience and expertise, without bias and vendor marketing hype.
Summary
Nearly half of the companies surveyed by the Longitude market research firm reported declining revenue and profitability in 2020 due to global events. However, more than two-thirds indicated they would have been more resilient had they approached prior technology investments more strategically as opposed to reactively.
These findings underscore the importance of developing an IT strategy. Careful planning addresses business goals while incorporating new technology developments and their potential positive impact on the customer experience and operational costs, further transforming your IT into a business driver.
ABOUT MAINSTREAM TECHNOLOGIES
Mainstream Technologies delivers a full range of IT services in Arkansas and the surrounding region including IT management and consulting, custom software development, and cybersecurity. We also offer industry-leading data center services in our Little Rock facilities. Established in 1996, Mainstream has earned a reputation for delivering quality, reliable, and professional technology services for public- and private-sector customers across the United States.
Jeff Pracht
IT Business Development Manager
(479) 715-8629 Office
(501) 529-0008 Mobile