(June 12, 2023) The Everything-as-a-Service model is a technology buffet that allows organizations to pick and choose the IT resources they want and how they pay for them.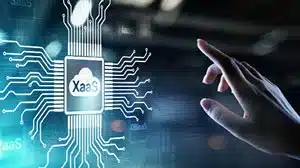 "Information technology is undergoing an inexorable shift from being an asset that companies own — in the form of computers, software, and myriad related components — to being a service that they purchase from utility providers."
It's been almost two decades since the author Nicholas Carr made that observation. The rise of Everything-as-a-Service (XaaS) seems to be finally validating his premise.
XaaS is a service-based delivery model in which organizations access all technology infrastructure, applications, and support services without purchasing hardware and software. It is rapidly becoming the favored approach for organizations of all sizes. IDC analysts predict that 65 percent of organizations will rely on this pay-as-you-go consumption model by 2026.
According to a recent Allied Market Research report, the XaaS market was valued at $474.93 billion in 2021 and is estimated to reach $2.6 trillion by 2031, a compound annual growth rate of 18.9 percent. This growth is being driven by increased demand for simple, cost-efficient access to the latest technologies that allow organizations to remain competitive.
How XaaS Enhances Business Agility
"The XaaS model provides an escape from the unending technology refresh cycle," said Mark McClelland, co-founder and vice president of Mainstream Technologies. "It also gives organizations more control over how they pay for technology, with predictable pricing models and flexible terms that fit their business needs."
The benefits of this approach were crystalized during the pandemic as organizations accelerated their use of cloud-based delivery models. Many organizations also shifted more technology management and maintenance functions to managed services providers (MSPs).
"This experience demonstrated the real value of XaaS and the cloud, and a shift away from a reliance on traditional legacy IT," said Paul Silverglate, vice chairman of Deloitte's U.S. technology sector practice. "Expect this trend to have staying power as the advantage of service-based technologies — and some of the associated behaviors — continue to provide measurable benefits and enable enterprises to compete more effectively."
Relief from Shortages
Global disruptions in the technology supply chain arising from the pandemic have also driven XaaS adoption. Widespread lockdowns that slowed or halted the flow of raw materials led to historic shortages of critical technology components such as processors, routers, switches, servers, wireless access points, and more. IDC analysts project that component shortages will continue well into 2024. That is expected to lead mass numbers of companies to extend their reliance on cloud-sourced infrastructure, applications, and services.
The XaaS model also offers relief from the ongoing IT skills shortage. Approximately two-thirds of organizations say staff shortages inhibit their ability to adopt important technologies. XaaS providers address this dilemma by bundling hardware and software with a broad range of managed services for designing, building, implementing, managing, and maintaining the entire environment.
Making it Work with Managed Services
In many ways, it is the managed services component that makes XaaS a viable model. It ensures organizations not only have access to emerging technologies but also to the manpower and expertise necessary to use them efficiently. MSPs provide specialized services such as network design, cybersecurity, backup, help desk support, and more. These services allow organizations to offload tasks that would otherwise require a dedicated team of professionals.
"In addition to enhancing existing operations, XaaS backed by managed services allows organizations to experiment with advanced technologies cost-efficiently," said McClelland. "Freed from many day-to-day maintenance and management tasks, internal IT teams have more time to evaluate and implement innovative solutions through the XaaS model, and ensure they'll be managed effectively long term."
XaaS represents a significant change from the way technology resources have traditionally been acquired. While the transition will undoubtedly present some challenges, there are clear benefits to a service-based delivery model that allows businesses to rapidly adopt new technologies without the need for large upfront investments in hardware, software, and personnel. That can be an important competitive advantage in a rapidly changing business environment.
ABOUT MAINSTREAM TECHNOLOGIES
Mainstream Technologies delivers a full range of technology services in Arkansas and the surrounding region including managed technology services and consulting, custom software development, and cybersecurity services. We also offer industry-leading data center services in our Little Rock facilities. Established in 1996, Mainstream has earned a reputation for delivering quality, reliable, and professional technology services across the United States for public and private-sector customers.