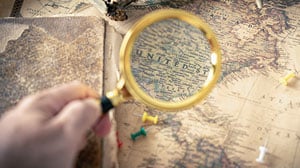 (January 3, 2023) One of the best pieces of advice about effective disaster recovery planning can be found in the pages of the 400-year-old literary classic Don Quixote. Paraphrasing an old Spanish proverb, author Miguel de Cervantes notes that a wise man should not "venture all his eggs in one basket."
It's a practical message about the risks of concentrating all of your resources in one area, but one that's too often unheeded by DR planners. Many businesses lack sufficient geographic separation between their production and DR environments. Research also suggests that as many as 40 percent rely solely on one data center, replicating data to a DR environment housed in the same facility.
Geographic diversity, or geodiversity, is an essential characteristic of effective DR planning. Replicating data, applications, and systems to a site that is geographically separated from your main site helps ensure that a single disastrous event doesn't take out both locations.
Lessons from Sandy
DR plans that incorporate a remote site can still fail to provide enough distance. Hurricane Sandy in 2012 demonstrated that risk. At the time, it was standard procedure for many New York businesses to establish DR sites in New Jersey. However, Sandy devastated areas of both states and 22 others, flooding both main and secondary data centers for dozens of companies. Secondary data centers that were not flooded still experienced issues with the delivery of diesel fuel to keep generators running.
Many industry experts suggest that secondary sites should be at least 100 miles away. Companies in areas prone to natural disasters that affect large geographic areas should probably push that out to 200 miles or more. However, the facility should also be close enough to deliver applications and data to users with minimal latency.
Distance isn't the only consideration, however. It may also be a good idea to choose a site that's on a separate power grid and service provider network from your main location. Even if you've safely replicated data to a remote location, you'll still need electricity, bandwidth, and telecommunications capabilities to restore operations quickly.
Of course, setting up a redundant data center in a distant location can be an expensive process. Real estate costs, hardware, software licenses, power, cooling, and network connectivity all add up. A standard formula suggests you can count on spending roughly $1,000 per square foot for a data center.
The DRaaS Advantage
There is a far more economical approach that can deliver the necessary geodiversity. DR-as-a-Service (DRaaS) solutions provide robust DR capabilities with predictable monthly pricing.
DRaaS provides on-demand access to systems and services, eliminating upfront capital expenditures. This approach also enables a great deal of flexibility by allowing subscribers to spin up virtualized resources in a matter of minutes. Best-in-class DRaaS providers also offer additional services such as DR planning and testing, real-time data replication, data security, and ongoing management and support.
According to Veeam's Cloud Protection Trends Report 2023, 98 percent of organizations use some sort of cloud-based infrastructure for data protection. Organizations that are more familiar with the cloud prefer DRaaS over Backup-as-a-Service because they gain DR planning, implementation, and testing expertise.
"Diligence is the mother of good fortune." That's another quote from Don Quixote that applies to disaster planning. Give Mainstream a call to learn more about using our DRaaS offering to create the geographic diversity necessary to protect your organization.
ABOUT MAINSTREAM TECHNOLOGIES
Mainstream Technologies delivers a full range of technology services in Arkansas and the surrounding region including managed technology services and consulting, custom software development, and cybersecurity services. We also offer industry-leading data center services in our Little Rock facilities. Established in 1996, Mainstream has earned a reputation for delivering quality, reliable, and professional technology services for public and private-sector customers across the United States.
Jeff Pracht
IT Business Development Manager
(479) 715-8629 Office
(501) 529-0008 Mobile