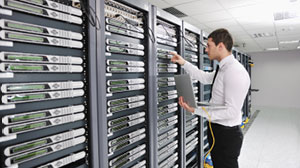 (October 5, 2022) The costs and challenges of maintaining data centers drive more businesses to reevaluate their investments in on-premises infrastructure. Many are choosing to opt out. Do you need your own data center?
According to the 2021 State of the Data Center Industry report from AFCOM, colocation, hyperscale, and multitenant facilities are driving most data center buildouts, renovations, and expansions. In other words, there continues to be a shift from hosting enterprise data centers on-premises to outsourcing to third-party providers.
It's true that an on-premises data center gives you full control over your infrastructure and data, and that's an advantage many companies — particularly large enterprises — aren't willing to relinquish. The Uptime Institute's 2019 data center survey finds that 40 percent of enterprise data center operators expect to use mostly their own facilities, with 18 percent using a mix of private facilities and colocation.
For smaller organizations with fewer resources, however, the risks of on-premises data centers are beginning to outweigh the benefits. Whether IT equipment is located in a separate facility, a dedicated room, or just a "network closet," managing and maintaining that infrastructure is becoming increasingly costly, complex, and resource intensive.
When weighing the pros and cons of on-premises data centers, here are five questions organizations should consider:
What will it cost? Building out a data center facility is extremely expensive, and there are significant ongoing costs for maintenance, staffing, power, and cooling. Organizations often believe that modernizing their data center infrastructure helps protect their investments. However, studies have shown that IT managers tend to overvalue their current infrastructure by as much as 85 percent.
Can you keep up with bandwidth demands? It's hard to predict how your bandwidth and capacity requirements might change in the future. Increasingly complex business applications, data analytics apps, and mobile access will likely increase network traffic considerably. Data centers today need the capacity to support growth and redundant interconnects to ensure continuity of operations. However, many legacy onsite facilities have a single interconnect, creating a single point of failure. Adding a second interconnect also adds complexity and cost.
Will it scale? Data center capacity should be able to scale up or down as needs change, and it must be able to handle increased traffic or new services without impacting existing workflows. In addition, the facility must be able to accommodate increased demands for power, cooling and real estate. It is difficult to anticipate these demands when building onsite data centers. Overbuilding to accommodate potential future demands could waste resources, but underbuilding can lead to performance bottlenecks and costly expansion projects down the road.
Do you have enough manpower? Even with increased automation, data center operations have significant staffing requirements. You need engineers to maintain servers, routers, switches, firewalls, cables, and more, as well as security operations teams to handle both IT and physical security requirements. There are also plumbing, electrical, and HVAC maintenance requirements, and you'll need janitorial services to keep the facility clean and dust-free.
Is your power reliable? Uninterrupted power supplies (UPSs) deliver emergency power in the event of a utility failure due to severe weather, equipment failure, or power line damage. However, a UPS won't support operations for an extended period. Onsite data centers require redundant power feeds and backup generators to ensure continuity. Backup generators require regular maintenance and testing.
Hosted data centers address these issues by providing the facilities, cooling, power, bandwidth, staffing, and physical security. Whether placing your own hardware in a colocation facility or renting servers and infrastructure in a dedicated hosting site, this approach eliminates much of the cost and management burden of operating a data center and allows you to focus on your core competencies.
ABOUT MAINSTREAM TECHNOLOGIES
Mainstream Technologies delivers a full range of technology services in Arkansas and the surrounding region including managed technology services and consulting custom software development and cybersecurity services. We also offer industry-leading data center services in our Little Rock facilities. Established in 1996, Mainstream has earned a reputation for delivering quality, reliable, and professional technology services for public and private-sector customers across the United States.
Jeff Pracht
IT Business Development Manager
(479) 715-8629 Office
(501) 529-0008 Mobile