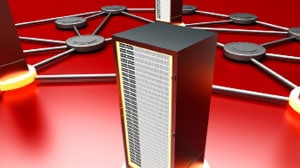 (May 4, 2021) Despite widespread cloud adoption, in-house data centers aren't going away anytime soon. Onsite infrastructure gives organizations more control over their applications and data and provides a customizable environment to meet specific needs. Do you need a data center refresh?
In-house IT equipment must be updated from time to time to ensure optimal performance and minimize the risk of downtime. Many organizations put off these upgrades due to the capital investments required and the disruption of an implementation project. There are alternatives, however. If you're facing a data center refresh, here are some options to consider.
Start with an Evaluation.
Hardware vendors typically recommend replacing equipment every three to five years, but organizations often retain equipment for much longer. A 2019 Forrester study found that 51 percent of organizations wait longer than four years to refresh server hardware.
That said, age alone should not be the basis of equipment upgrade decisions. Organizations should conduct a thorough inventory of their on-premises IT environment, using tools to collect and analyze usage and performance data. If servers are supporting their current workloads and have enough capacity to meet anticipated demand, there may not be a need to replace them right away. Scalability is also an important factor as it may be more cost-effective to retrofit an existing solution than replace it.
Arrange Extended Support.
As hardware ages, it is at greater risk of failure, even if it's still performing adequately. It's important to ensure that older hardware is covered by a warranty that provides for rapid replacement of parts if needed.
However, some manufacturers don't offer warranties on hardware that has reached end-of-support. Organizations should consider extended warranties or third-party maintenance agreements that cover such equipment. These contracts can be extremely cost-efficient — according to Accenture, third-party maintenance can offer savings of up to 60 percent off original equipment manufacturer (OEM) contracts.
Repurpose Equipment.
A server that can't handle its existing workload or a planned application upgrade may still have useful life. Older servers may be repurposed to handle less-critical workloads or a development environment.
Many organizations will repurpose aging equipment as their disaster recovery (DR) solution. Having a DR environment that operates at a slightly reduced capacity when compared to the production environment is still better than no DR at all.
Consider Data Center Hosting.
If upgrading your on-premises data center or moving to the public cloud are not viable options, a hosted data center can be the best alternative. In this model, organizations "rent" infrastructure from a managed services provider (MSP) who hosts customers' workloads on dedicated data center resources. Hosting solutions are flexible and scalable yet provide the security and control of a private cloud environment.
Hosting arrangements enable organizations to delay or forego data center modernization efforts. Additionally, hosting provides more robust data center infrastructure than most organizations have onsite. Best-in-class hosted data centers have redundant power, cooling and network connectivity to maximize availability. Advanced physical and cybersecurity measures protect applications and data.
The MSP may also provide end-to-end monitoring and management services for the hosted environment. This frees organizations from the responsibility of applying updates and security patches and handling administrative and maintenance functions.
Conclusion
In today's hypercompetitive, 24×7 business environment, organizations cannot risk downtime or missed opportunities due to aging IT equipment. However, replacing servers, storage and other gear isn't always the best course of action. Organizations should conduct a thorough evaluation of their in-house IT environment and consider other options before investing in new hardware. If equipment must be replaced, a data center hosting arrangement can provide access to needed resources as an operational expense.
ABOUT MAINSTREAM TECHNOLOGIES
Mainstream Technologies delivers a full range of technology services in Arkansas and the surrounding region including managed technology services and consulting custom software development and cybersecurity services. We also offer industry-leading data center services in our Little Rock facilities. Established in 1996, Mainstream has earned a reputation for delivering quality, reliable, and professional technology services for public and private-sector customers across the United States.
Jeff Pracht
IT Business Development Manager
(479) 715-8629 Office
(501) 529-0008 Mobile