Mainstream Technologies is a custom software company based in LIttle Rock, AR
"Mainstream Technologies was referred to us as someone we should speak with before we made a decision to proceed with custom software development. They were one of 15 possible providers whom we interviewed. After the initial interview, Mainstream made the short list. In the second round of interviews, it became very clear to us that they were far and above the best fit. They understood the project. They understood our business. They had a clear understanding of the project from the outset and insisted on collaboration."
What we find as we pass the interview stage with a client is that they're looking first for a custom software development firm to fill their programming needs. They expect us to be diligent, responsible and to deliver on-time and on-budget. However, at some point during the engagement, they often discover that they need a development team that has a grasp on the fundamental business issues driving the project. This is when they realize that we're much more than a development shop (a contract programmer) but a team of professionals who understands both the technology and their business.
This is one of the main reasons we've enjoyed success over these 25+ years. Most of our clients are long-term clients who've benefited from our experience and commitment to excellence. If they're a new client, they most likely found us through recommendations or referrals.
What Mainstream Offers
First and foremost, Mainstream is a software development firm. Although we offer various flavors of consulting services, they're all bundled within our programming services. Since the beginning, we've striven to make sure that once we begin a project that two things occur; first and foremost is that we fulfill the commitment we've made in our proposal–it must be on time and on budget, the second is we look for ways to add value to the original idea or scope of the project. This commitment to "do the right thing, the right way", has served us well through the years.
Our commitment to deliver on time and on budget has led us to blend the principles of Agile and Iterative development methods into a flexible methodology that lays the groundwork for collaboration with our clients. Communicating in this frequency and manner has proven to maximize our client's investment while minimizing the opportunity for wasted effort.
As the project progresses, our team of developers, analysts, architects and project managers tune into the processes we're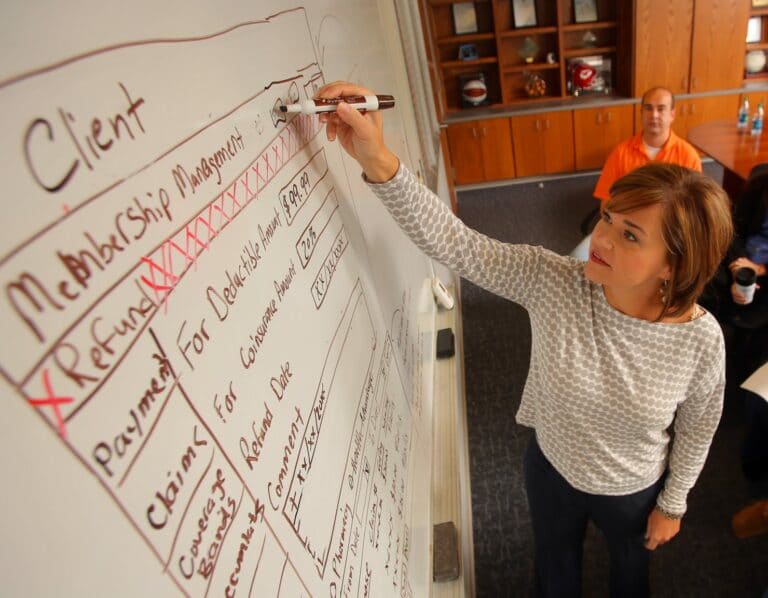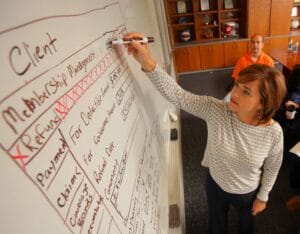 automating to keep an eye out for areas where we can recommend efficiencies ("IN-FLIGHT CONSULTING"™). We're able to do this because our team is a blend of experienced business professionals, each having their own role and unique skill set. They also average 15 years of business technology experience with 7 of those at Mainstream. This experience and stability gives us an edge because we can put ourselves in the user's chair to anticipate future needs that may crop up down the road.
One of our clients is on the record of saying: "We found that Mainstream was very knowledgeable about our business. They not only knew what we did, but they understood why! They even had the ability to wear our 'user's hat' and foresee their challenges so extra features could be built in as we moved forward."
As an outsourcing firm, we understand that the easiest and best way to grow our business is to deliver a project that meets or exceeds our clients' expectations. We never want to put ourselves in the position of having to say we're sorry. By following this simple principle, the majority of our clients have been with us for an extended period of time. Since a high percentage of our revenues are from repeat clients, we have a vested interest in their success. We enter each project with the philosophy that we're interviewing for the next one. As a result, we're looking for ways to bring value to this project, and for opportunities beyond the immediate task. This philosophy permeates our association and demonstrates that we take the responsibility of being a technology partner very seriously.
Custom Software Testimonials
"I'm glad we didn't go the route of hiring contractors. Mainstream gave us the 'best of breed' by combining Agile and Iterative methods. They became an extension of our company for programming services. From the outset, they were the only firm I interviewed that approached the project as an extension of our internal team. This commitment to a partnership and collaboration created an environment that helped us accomplish all of our goals and more.
With Mainstream, we now have a new set of business and technology experts we can rely on. We ended up with a wider and deeper resource pool than I ever imagined (Lean Sourcing). When we do run into challenges on the business side, I feel comfortable going to them for their consulting services. "
We understand that project outsourcing is used as a tool to tactically expand capacity and skill sets. There are several options available, but there is only one option that gives you the strategic advantage to leverage the most efficient development methodologies, acquire the highest caliber of talent who are experts in both technology and business processes and the flexibility to use us on an as-needed basis.
Mainstream is more than a contracting firm or programmers for hire. We're an association of technology professionals who take pride in our ability to engage our clients at any level. Our clients' receive:
Proven technology; Robust solutions
Stability with proven performance
Access to complimentary service options
Industry-specific subject matter expertise
Direct access to all levels of our team
Summary
If you have staff limitations and a workload that exceeds capacity, consider Mainstream as your first option.
PEACE OF MIND THE FIRST TIME
For more information, send us an email or call us @ 501-801-6700.
###