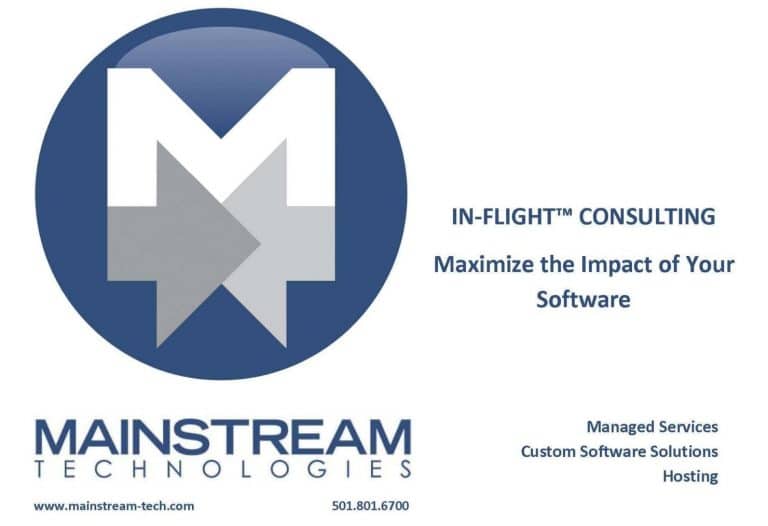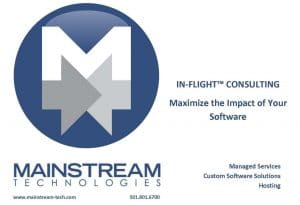 IN-FLIGHT Consulting™ is a value added service which offers our clients the opportunity to accelerate their business processes and address inefficiencies while their software solution is in development. It has resulted in elevating projects to efforts which have dramatically improved productivity, encouraged usability and reduced operating costs. It assures our clients can take advantage of long term productivity enhancements while maximizing their development investment in the short term.
The key factor that gives us this ability is the quality and depth of our staff. Our team averages over 15 years experience with 7 of those at Mainstream and enjoy the opportunity to solve business problems. They have experience in a variety of industries ranging from retail to insurance to government and they're technology agnostic giving them the freedom to recommend just the right platform that best fits the needs of the client.
Success Story:
An example of how IN-FLIGHT Consulting™ transformed a 'technology update' into something much more is the Arkansas Department of Education's APLS update for the Office of Educator Licensure.
The Office of Educator Licensure is responsible for the licensure of all Arkansas educators. The unit processes applications and provides technical assistance to educators who are seeking an Arkansas Educator License through one of the approved avenues of preparation.
The Department retained Mainstream to rewrite the Arkansas Professional Licensure System (APLS) which was used to manage the licensure process. Our task was to update APLS functionality and replace it with the Arkansas Educator Licensure System (AELS).
AELS is a web-based architecture (using .Net, SQL Server) with built-in self assist features that are more efficient than the legacy system. AELS has resulted in increased usage among its members because it stores all the elements associated with an educator's license in the same location which improves efficiencies. We automated manual processes, captured institutional knowledge and incorporated established business rules found within the legacy system.
AELS allows applicants and districts to check an application's progress online which has reduced manual oversight and encouraged self help. The improvements with AELS have resulted in accelerated tracking and reporting along with empowering educators to view and update their own personal profiles.
IN-FLIGHT ™ Consulting
IN-FLIGHT ™ Consulting (identifying possible process improvements along the way) directly resulted in automating the following components which weren't addressed in the original project scope.
Educator background checks: An applicant can now check their application status and where it is within the approval process online.
Ethics violations tracking and visibility: Administration is now able to enter and track educator violations and their progress, status, resolution and history in real time.
Educator certification and assignment verification: Administration can now verify an educator's certification(s) compliment their prospective assignment in real time. Previously, this information was retained in a 3rd party application which wasn't accessible via the web.
Document management integration: Previously, all documents were manually scanned and uploaded into a 3rd party application. This functionality was integrated into AELS which now electronically stores it within the applicant's record. AELS is now a "one stop shop" that manages everything needed to grant an Arkansas Educator's License to an applicant.
"Mainstream is always responsive to our needs in a timely manner. They are mindful and considerate of State resources without compromising the quality of their work. They make the Office of Educator Licensure a top priority, and it is wonderful to work with such pleasant people."
Karli Saracini
Director Office of Educator Licensure
Arkansas Department of Education
Our real world experience is invaluable in solving business challenges which can transform your business. IN-FLIGHT Consulting™ is a powerful tool that maximizes your investment and creates more opportunities for efficiency improvements.
For more information
Please contact Mainstream Technologies @ 501.801.6700 or visit us at www.mainstream-tech.com.