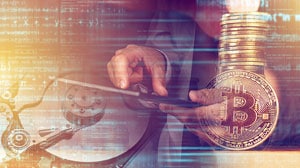 (January 11, 2022) Although the cryptocurrency market is highly volatile, it has skyrocketed in the past year. According to data from Statista, the overall cryptocurrency market capitalization was just over $3 trillion in November 2021, up from $450 billion a year earlier. The rise in the value of cryptocurrency has brought about a corresponding increase in cryptojacking attacks. In fact, many security experts say that cryptojacking has become one of the most significant cyber threats organizations face today.
How Cryptojacking Works
In addition to investing in cryptocurrency markets, people can make money through crypto-mining, the process by which new units of currency are introduced into the market. This involves verifying and authorizing transactions and adding those transactions to the blockchain digital ledger. Crypto-miners have to come up with a 64-digit hexadecimal number that solves the complex equation generated by the blockchain system. The first miner to complete the task earns a reward in crypto tokens.
It's more guesswork than high math, but there are trillions of possibilities. Crypto-miners need sophisticated hardware capable of generating billions of these "hashes" per second. It takes an enormous amount of computing power, electricity, and cooling.
Cybercriminals don't bother buying all that equipment or paying the electric bills. They simply steal computing resources from somebody else.
Why Cryptojacking Is On The Rise
Cryptojacking attacks are often launched after a user clicks a link in a phishing email that downloads crypto mining code onto the device. Devices can also be compromised if the user visits an infected website or is exposed to an infected ad. Some cybercriminals also target high-powered enterprise servers, as well as poorly secured Internet of Things (IoT) devices. Attacks often go unnoticed because no data is stolen or exposed.
It doesn't take much expertise to launch a cryptojacking attack. In fact, hackers can buy a cryptojacking kit on the dark web for as little as $30. Cybercriminal organizations also use botnets to automate attacks and cryptocurrency mining activities across multiple devices. Google has alleged that a cryptojacking botnet has infected more than a million machines worldwide, using blockchain to hide its activities.
According to the SonicWall Cyber Threat Report, there were more than 51 million cryptojacking attacks in the first half of 2021, a 22 percent increase over the prior-year period. Cryptojacking is on the rise because it can be highly lucrative for cybercriminals. More than 300,000 crypto mining transactions take place daily, and the first miner to verify a transaction earns 6.25 Bitcoins. Researchers with Guardicore Labs reported that Chinese hackers made up to $10,000 per day by cryptojacking 50,000 servers.
Cryptojacking Is Not A 'Victimless Crime'
Because cryptojacking doesn't encrypt or expose data or disrupt business operations, some people dismiss it as a minor headache. However, cryptojacking can have a noticeable impact on application performance, user productivity, and customer satisfaction. It can drain a device's battery or even cause it to overheat. It drives up energy costs. Organizations can also waste money, time, and resources trying to investigate and correct the problem.
Because the damage caused by cryptojacking isn't obvious, users need to be educated about the warning signs. Unexplained performance slowdowns, overheated devices, and equipment failure shouldn't be simply chalked up to uncooperative technology. Train employees to recognize and report these warning signs right away. Make sure your security software can detect crypto-mining code. A layered security architecture offers the strongest protection from cyber threats.
Around-the-clock monitoring and management by a managed services provider (MSP) can also help detect cryptojacking attacks. Contact your MSP about steps you can take to reduce the risk of this threat.
ABOUT MAINSTREAM TECHNOLOGIES
Mainstream Technologies is an Arkansas IT service company that offers managed technology services and consulting custom software development and cybersecurity services. We also offer industry-leading data center services in our Little Rock facilities. Established in 1996, Mainstream has earned a reputation for delivering quality, reliable, and professional technology services for public and private-sector customers across the United States.
Jeff Pracht
IT Business Development Manager
(479) 715-8629 Office
(501) 529-0008 Mobile