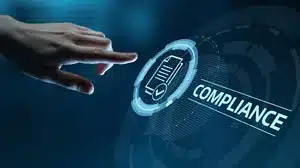 (August 8, 2023) As the number of cyberattacks and data breaches continues to skyrocket, organizations in regulated industries must meet stricter security requirements. Financial services, healthcare, and manufacturing are just a few of the industries that must comply with regulatory requirements for data security and privacy. Additionally, any organization that accepts debit and credit cards must comply with the Payment Card Industry Data Security Standard.
Ensuring compliance can be difficult for in-house staff, particularly for small to midsize businesses (SMBs) with limited IT expertise. Partnering with a managed services provider (MSP) can help ease the burden. Qualified MSPs understand the regulatory compliance requirements for their customers' industries and provide solutions and services to reduce the risk of a security breach.
Here are five capabilities to look for when evaluating the compliance practices of an MSP.
Security Strategy Development
No organization has an unlimited budget, so it's important to have a cybersecurity strategy to guide investments. The strategy should reflect the organization's business processes and risks, as well as specific compliance requirements. The MSP should take time to understand the organization's objectives and identify any threats and vulnerabilities that could impact operations. The MSP should then recommend security controls and provide management with the information needed to make informed decisions.
Compliant Tools and Processes
To ensure compliance, MSPs should have monitoring and management tools that provide the coverage needed to meet regulatory requirements. For example, regulations typically require continuous monitoring, security event correlation, rapid response, and reporting. A security information and event management (SIEM) system enables the MSP to meet these requirements by collecting information on security-related events from a variety of sources. The MSP should also have established processes for analyzing this information, detecting malicious activity, and promptly responding to security incidents.  
Extended Security Services
In addition to monitoring and managing the environment, the MSP should have the expertise to implement the security controls outlined in the security strategy. Many regulations now require multifactor authentication, endpoint encryption, and other specific controls. An MSP that can provide a comprehensive solution helps ensure that these controls are installed and configured properly and managed effectively. Qualified MSPs can also provide regular vulnerability scanning to detect any new threats to the environment.
Awareness of Changing Requirements
Regulatory requirements are not static — they change along with the cybersecurity landscape. MSPs should stay abreast of these changing requirements and any emerging threats that could put their customers at risk. This enables them to proactively address potential issues and ensure their customers remain compliant. Best-in-class MSPs can also assist with the reporting needed for regulatory compliance audits.
Experience
Regulatory requirements and security device management can be learned. However, there's no substitute for experience when it comes to compliance. An MSP with a deep bench of experienced engineers will have greater insight into the types of threats that should be prioritized for investigation. The MSP will also have the expertise to customize security configurations to each customer's IT environment. Proper tuning of security controls plays a critical role in the MSP's ability to detect and respond to incidents.
How Mainstream Can Help
Mainstream Technologies has delivered enterprise-class managed services since 2003. Our methodologies are built on industry best practices to help ensure the highest levels of security and compliance. Our managed services team also works in concert with our cybersecurity team to provide a comprehensive suite of security solutions and services.
The Mainstream team remains vigilant of changing cybersecurity threats and plays an active role in driving the industry standards underpinning regulatory compliance requirements. We'd love to show you why our clients trust us to protect their business-critical data and help them maintain compliance with government and industry regulations.
ABOUT MAINSTREAM TECHNOLOGIES
Mainstream Technologies delivers a full range of technology services in Arkansas and the surrounding region including managed technology services and consulting, custom software development, and cybersecurity services. We also offer industry-leading data center services in our Little Rock facilities. Established in 1996, Mainstream has earned a reputation for delivering quality, reliable, and professional technology services for public and private-sector customers across the United States.
Jeff Pracht
IT Business Development Manager
(479) 715-8629 Office
(501) 529-0008 Mobile
Contact Us