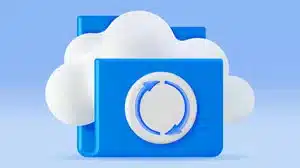 (September 15, 2023) The concept of cloud computing has existed for years, and almost all organizations use at least one cloud service. However, there are still quite a few people who are confused about the cloud. The belief that data, applications, and services are coming from white, billowy objects in the sky is no longer common. Nevertheless, many users don't understand the purpose of certain cloud services and how they function. Cloud sync, storage and backup are prime examples.
Many people think they basically do the same thing. For example, they view a syncing solution as their backup solution — if it's in Dropbox, it's backed up. Adding to the confusion is the fact that some platforms offer two or more of these services. But while sync, storage and backup might seem similar on the surface, they are three distinct services with different features and capabilities.
Cloud sync makes it possible for users to access files from the cloud by syncing them from a folder on a local device to a cloud platform. Any changes made to the file on local devices are automatically made for all users with access. For example, files saved in a Dropbox, OneDrive or Google Drive folder are automatically synced to the cloud so that they can be accessed using multiple devices and shared with other users.
Cloud storage provides an extension of in-house storage or, in some cases, replaces it altogether. A cloud storage platform will generally act as an external drive, allowing organizations to connect directly to cloud storage repositories rather than storing content locally. Unlike local storage, cloud storage offers virtually limitless scalability. Most cloud storage solutions generate links pointing to files and folders so that they can be easily shared, much like cloud sync.
Cloud backup services make copies of new or modified data to cloud storage rather than a local hard drive or other backup target. Cloud backup can also support the "3-2-1 rule" of data protection by adding a third, offsite backup. Best-in-class services de-duplicate and compress data to reduce storage costs. If needed, the software allows the organization to recover data quickly.
Some organizations make the mistake of treating cloud sync like a backup solution. However, trying to restore large amounts of data from a cloud sync solution can be a long, complicated process. Errors are common, and you won't be able to recover files saved outside of cloud sync folders. Cloud storage can be used as a backup target, but you still have to manage your backup environment and ensure that backups are completed successfully.
The primary function of cloud backup is to replicate on-premises data to the cloud to protect it from accidental deletion or a full-on disaster. Backup software handles this task automatically, tracking changes and maintaining multiple versions. Cloud backups can be scheduled to run when they won't use up system resources, or they can run continuously to ensure that the latest versions of your data can be recovered in case of disaster. Cloud backup will also retain your file system structure to make it easier to find and access the data you need when those file systems need to be rebuilt.
There are many cloud backup solutions on the market, with large variations in cost and quality. Consumer-grade backup services are great for protecting family photos and videos, but they aren't designed to protect an organization's data. Enterprise-class platforms also vary significantly and require careful configuration to ensure all data is backed up successfully.
The Mainstream team has extensive experience in the design, implementation, support and management of backup solutions. Let us help you protect your organization against disaster and enable you to restore critical files quickly and reliably.
ABOUT MAINSTREAM TECHNOLOGIES
Mainstream Technologies delivers a full range of technology services in Arkansas and the surrounding region including managed technology services and consulting, custom software development and cybersecurity services. We also offer industry-leading data center services in our Little Rock facilities. Established in 1996, Mainstream has earned a reputation for delivering quality, reliable, and professional technology services for public and private-sector customers across the United States.
Jeff Pracht
IT Business Development Manager
(479) 715-8629 Office
(501) 529-0008 Mobile
Contact Us