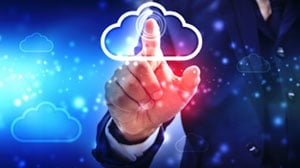 (March 22, 2021) The public cloud was already seeing dramatic growth before the pandemic. But as organizations quickly shifted to work-from-home models, the cloud took on new importance. That raises a question: Who will manage the public cloud services that are now critical to your day-to-day operations?
Over the past year, public cloud services became more than just a means of minimizing capital investments in IT infrastructure and increasing operational efficiency. Organizations began viewing public cloud capabilities as a critical enabler of remote work. The flexibility and scalability offered by public cloud providers also facilitated the rapid rollout of applications and services to meet changing customer demands.
The value of the public cloud is reflected in market data. According to the Flexera 2021 State of the Cloud Report, small to midsize businesses (SMBs) are now running 64 percent of their IT workloads in the public cloud. A whopping 86 percent of SMBs said that the COVID-19 pandemic caused them to utilize cloud-based services more than they had planned.
However, many SMBs lack the expertise needed for ongoing maintenance and management of cloud services. A managed services provider (MSP) can close this skills gap and help SMBs maximize their investments in cloud services.
Cloud Challenges
"Security" and "managing cloud spend" were the top two cloud challenges for all organizations responding to the Flexera survey. However, "lack of resources/expertise" ranked No. 3 for SMBs, cited by 72 percent, and this challenge increased as organizations moved from the "beginner" to "intermediate" stages of cloud maturity.
Although the public cloud does reduce some IT operational requirements, it's far from a "silver bullet" that cures all technology ills. Someone must manage cloud workloads to ensure they are meeting cost and performance targets.
Security is another concern. Although public cloud platforms provide a multitude of security options, the public cloud operates under a shared responsibility model. Customers are responsible for controlling user access to their cloud environments and properly configuring services to secure their data.
Data backup is an often-overlooked customer responsibility. Some public cloud services allow users to recover recently deleted files and emails, but these limited capabilities aren't meant to replace backup. An estimated one-third of customers experience data loss in the public cloud — a statistic that becomes more alarming when you consider that 59 percent of SMB data now resides in the public cloud, including sensitive consumer and corporate data.
How an MSP Can Help
Many organizations are turning to MSPs for help with these challenges. Almost half (49 percent) of SMBs surveyed by Flexera said they use MSP services, and another 15 percent plan to do so within the next 12 months.
An MSP can help organizations develop a public cloud strategy by determining which workloads and services are the best candidates for migration to a public cloud infrastructure. Quality MSPs will have the expertise and experience to plan and implement a public cloud deployment, ensuring rapid time-to-value.
Once workloads and services are up and running in the public cloud, the MSP can provide operational assistance and support. Well-defined processes ensure that proactive maintenance tasks are performed on schedule, workloads are secured, backups execute successfully and any issues are resolved quickly. Best-in-class MSPs will provide holistic management of on-premises and cloud resources to ensure that business requirements are met.
Forrester Research predicts that the public cloud market will grow 35 percent in 2021 as organizations continue cloud migrations. However, many organizations lack the in-house IT resources to effectively plan, monitor and maintain their cloud environments. An MSP can provide much-needed expertise to help organizations manage the cloud services that are critical to their operations.
ABOUT MAINSTREAM TECHNOLOGIES
Mainstream Technologies delivers a full range of technology services in Arkansas and the surrounding region including managed technology services and consulting custom software development and cybersecurity services. We also offer industry-leading data center services in our Little Rock facilities. Established in 1996, Mainstream has earned a reputation for delivering quality, reliable, and professional technology services for public and private-sector customers across the United States.
Jeff Pracht
IT Business Development Manager
(479) 715-8629 Office
(501) 529-0008 Mobile