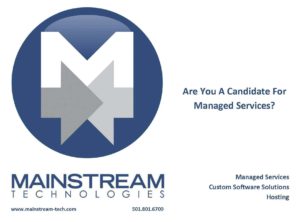 Managed technology services are a reliable way to maximize cybersecurity and system performance for organizations that rely on their technology as a strategic asset.  Oftentimes, managed technology services are less costly than reactive IT support.
There are several questions you can ask to determine if managed technology services are a good fit for your business.
Are you struggling with inconsistent technology issues?
Is your business-critical data protected from disaster?

Is your data backed up daily?
Is your data tested frequently?

Is there a business continuity plan in place?
Are the cybersecurity measures in place adequate to protect against viruses, spam, bots, or hackers (internal and external)?
Is your IT budget under control, or does your spending fluctuate throughout the year?
Are you managing to a 3-5 year technology plan?
If you have an internal IT staff, are they stretched to meet their day-to-day support obligations?
If you answered yes to any one of these questions, you may want to consider managed technology services. You may find out that the costs are less than reactive support, and with managed technology services, system performance and cybersecurity may be drastically improved?
Managed Technology Services
Partnering with a managed service provider is more prevalent today than ever before because of our reliance on technology and the need for 24/7/365 access. Managed services are used by businesses of all sizes because of its proven success. Decision-makers have placed finding an IT partner high on their list of options largely due to escalating personnel costs, outside competitive pressures, growing business demands, and the need to maintain service quality and security with limited budgets. Small and mid-size businesses also use managed services to gain access to skills and services that would otherwise be cost-prohibitive to bring in-house.
Managed technology services are all-inclusive that place the full responsibility of your system's performance into the hands of the provider. All maintenance and support, regardless of the effort, is included in a predictable monthly fee that doesn't change.
What do you spend annually on IT?
Have you been impacted by downtime or service disruption in the past year?
Can you quantify your downtime cost?
Managed service providers have gained market share over break-fix firms over the last 5 -10 years because the costs are comparable while proactive managed services optimize system performance and significantly reduces the risk for unplanned outages.
Larger businesses with in-house IT support commonly use managed services to delegate the mundane daily support tasks that are often neglected because of more pressing issues. Finding an IT partner allows them to focus their attention on strategic and tactical business initiatives with the assurance that the routine is being handled. Their provider also gives them access to an outside set of technology resources to complement their own staff competencies.
Managed Technology Services as a Utility
A true managed services offering is similar to a utility's levelized billing structure. This approach provides a predictable monthly fee for all support services regardless of the provider's efforts. A good managed services contract covers everything and only fluctuates if there's an infrastructure design change. If a disruption or outage occurs, it's the provider's responsibility to absorb the costs for service restoration. This type of contract aligns the provider's interest with the user's interest since downtime impacts both parties negatively.
Since downtime is the provider's responsibility, regular maintenance, monitoring, and prevention efforts are critical. Managed services are inherently proactive and address potential issues before they impact users. These proactive measures also tend to improve the quality of system uptime over a reactive approach.
The issue decision-makers face when considering outsourcing managed services is making sure they're comfortable bringing in a third party for support services while maintaining an appropriate level of control and security. This is why it's important to carefully evaluate their outsourcing maturity level and take the necessary steps to lay the groundwork for success.
Mainstream Technologies
Mainstream Technologies is both SOC 2 Type 2 certified and MSP Alliance Cyber Verify certified and was the first managed service provider worldwide to achieve this UCS certification. Our President, John Burgess currently serves on the MSP Alliance Board of Advisors.
The UCS/SSAE 16 certification reports provide our clients with transparency in our operational structure, internal processes, control activities, and financial stability that meets many regulatory obligations including Sarbanes Oxley and HIPAA.
Mainstream Technologies is one of the leading technology companies in Arkansas, serving clients from its headquarters in Little Rock. Our staff of over 70 serves both the public and private sector with Managed Technology Services, Custom Software Solutions, Cybersecurity, and Hosting services.
For more information regarding managed services, please refer to the following:
Managed Services Overview
Data Backup Strategies (Table)
Restore Time & Restore Point Objective Options (Table)
Is IT driving your business….Forward?