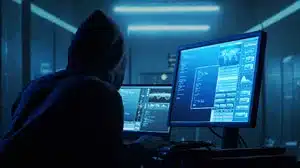 (March 1, 2023) There was a time when the dark web was of interest only to law enforcement and researchers, who would monitor activity to gain insights into illegal activity. But cybercrime has shined a bright light on the dark web, and businesses should understand what is the dark web, what threats lurk there, and how to use that knowledge to protect against cyberattacks.
Criminals are drawn to the dark web because they can operate anonymously. The sites on the dark web aren't indexed by search engines and can't be accessed through a traditional web browser. You access them anonymously through services like Tor (The Onion Router) or some other network that hides your identity and encrypts traffic so you can't be tracked.
The dark web isn't inherently illegal, but it does provide a platform conducive to illegal activity. In addition to hacking tools, criminals use the dark web to anonymously buy and sell stolen goods, traffic in weapons and drugs and engage in other illicit activities.
Haven for Criminals
The dark web has also become a marketplace for buying and selling the latest hacking tools via numerous "malware-as-a-service" partner programs. Non-technical hackers, organized crime outfits, and state-sponsored groups go to the dark web to buy ransomware-building kits or hire hackers to carry out attacks.
According to data published by Statista, a premium-quality malware attack costs $5,500, while a low-quality, low-success attack is just $45. A month-long denial of service attack goes for $850.
For businesses, perhaps the greatest concern is the data for sale on the dark web. Criminals get their hands on EINs, bank account numbers, and credit card numbers to steal money, make purchases and defraud creditors. They can then sell this sensitive information to the highest bidder on the dark web.
Criminals can purchase personally identifiable information for as little as $15, and databases with millions of compromised credentials for around $150. Compromised credentials pose an extraordinary risk for companies, giving criminals the means to breach critical systems, steal sensitive information, plant malware and launch phishing attacks. The risk is high even when an employee's personal information is stolen given that people often reuse passwords.
Awareness Is Key
Dark web monitoring services help businesses combat these threats. Using a combination of human and artificial intelligence, dark web monitoring services constantly watch millions of sources, including criminal chat rooms, peer-to-peer networks, malicious websites, bulletin boards, and illegal black-market sites. They look for mentions of your company name, employee names, web and email addresses, and sensitive assets. If your information is discovered, they alert you immediately so you can take action to protect your business and your data.
These services can also help organizations identify vulnerabilities in their IT environment and systems that have been compromised. In addition, they can aid in third-party risk management by identifying the compromised credentials of customers and suppliers and assessing the risk of business partners.
Many leading managed services providers (MSPs) offer dark web monitoring, and demand for the service is rising. According to a recent survey conducted by research firm Censuswide, 39 percent of MSP customers are looking to utilize dark web monitoring to identify vulnerabilities affecting their organization, and 38 percent want to find out if they are currently being targeted on the dark web.
It's important to note that dark web monitoring solutions can't prevent stolen information from being used or remove stolen information from the dark web. However, they do provide real-time awareness of cyber threats and compromised credentials so that your MSP can help you develop a plan for mitigating your risk.
ABOUT MAINSTREAM TECHNOLOGIES
Mainstream Technologies delivers a full range of technology services in Arkansas and the surrounding region including managed technology services and consulting, custom software development, and cybersecurity services. We also offer industry-leading data center services in our Little Rock facilities. Established in 1996, Mainstream has earned a reputation for delivering quality, reliable, and professional technology services for public and private-sector customers across the United States.
Jeff Pracht
IT Business Development Manager
(479) 715-8629 Office
(501) 529-0008 Mobile