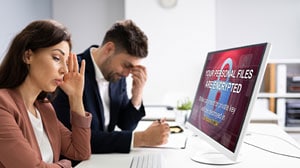 (January 26, 2021) There's no question that cyber threats are increasing in both frequency and scope, although many of the overarching themes remain the same. According to the 2021 Cyber Threat Trends Outlook from Booz Allen Hamilton, cybercriminals are upping their game when it comes to ransomware, spending more time in their victims' networks to cause greater harm and extract bigger payouts.
Cloud platforms are under attack as hackers look for misconfigurations that expose sensitive data and intellectual property. Cybercriminals are also using artificial intelligence to find vulnerabilities and automate attacks.
Many organizations address these threats by implementing security point solutions without an overarching strategy. This reactive approach often results in overspending on security solutions while leaving gaps that put the organization at risk.
Implemented in a layered approach, tools such as firewalls, intrusion prevention solutions, antimalware applications, and content filtering help to identify and block many forms of attack. However, effective IT security starts with a well-managed infrastructure that is kept up-to-date and monitored.
Why Proactive Maintenance Is Critical
Unpatched, poorly managed systems are a leading cause of security breaches. Studies consistently show that up to 80 percent of all security incidents are related to vulnerabilities for which a patch is available but hasn't been applied. Such vulnerabilities are exploited an average of seven years after the patch is released. About 20 percent of all vulnerabilities are critical or high risk yet it often takes organizations 90 days or more to implement a patch.
Not surprisingly, cybercriminals actively look for out-of-date, unpatched systems as targets for their exploits. More and more attacks exploit multiple weaknesses, which makes it easier for cybercriminals to establish a foothold in the IT environment.
In the Booz Allen Hamilton report, the first item on the list of threat mitigation strategies is to ensure that critical vulnerabilities are identified and remediated promptly. The first step in this process is to establish a baseline for all operating systems, firmware and applications, and establish a regular patching cycle to ensure that updates are timely applied.
Another hallmark of a well-managed IT environment is a complete inventory of all assets in production that's kept up-to-date using automated tools. The environment should also be monitored continually to detect potential threats.
How Mainstream Technologies Can Help
However, many organizations have trouble ensuring that the IT environment is maintained proactively. Keeping systems up-to-date and patched can be resource-intensive, and many organizations lack effective tools for system monitoring and management. Budget constraints and limitations on time, training, and expertise also play a role.
On top of that, the IT environment is increasingly complex, with a growing number of patches that must be prioritized and tested for bugs and compatibility problems. In a recent Ponemon Institute survey of cybersecurity professionals, 88 percent of respondents said they must coordinate with other departments before patching systems.
More than two-thirds indicated plans to hire an average of five full-time staff just to handle patching. A more cost-efficient approach is to partner with a qualified managed services provider (MSP) such as Mainstream Technologies.
Mainstream will get to know your company, the challenges you face, and what tasks consume the bulk of your IT staff's time. We'll get your environment up to a baseline level of performance, availability, and security, and tailor a plan to maintain your technology and prevent problems from occurring. Let us use our proven methodologies and disciplined approach to ensure that your IT environment is well-managed and protected against cyberattacks.
ABOUT MAINSTREAM TECHNOLOGIES
Mainstream Technologies delivers a full range of IT services in Arkansas and the surrounding region including managed IT services and consulting custom software development, and cybersecurity. We also offer industry-leading data center services in our Little Rock facilities. Established in 1996, Mainstream has earned a reputation for delivering quality, reliable, and professional technology services for public and private-sector customers across the United States.