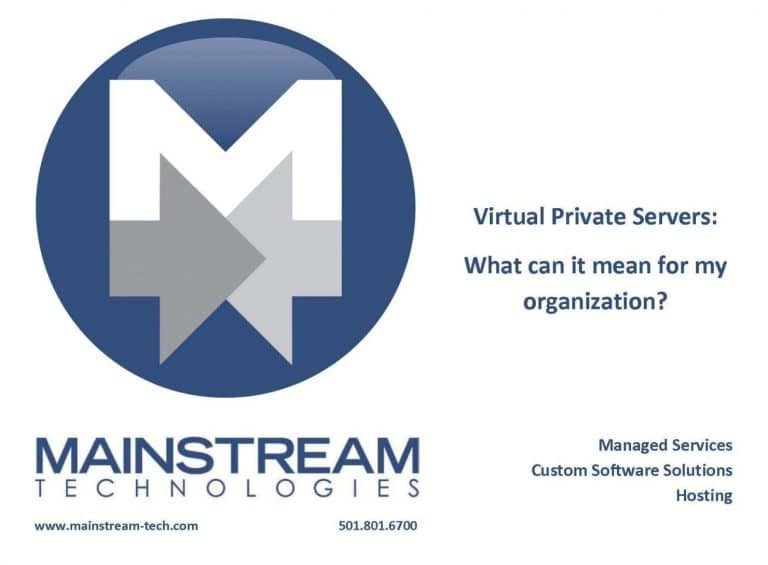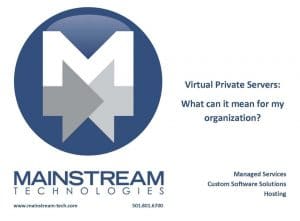 Virtual Private Servers offer advantages to businesses who want to cut capital expenses while expanding their capabilities and maintain control by leveraging the cloud.
The goal of these articles is to introduce the reader to the benefits and challenges of a virtual private server in Part 1 and to focus attention on the evaluation elements in Part 2 to provide the reader with tools for deciding whether a VPS is the right solution for their organization.
A virtual private server (VPS) is dedicated computing capacity offered as a service.  A VPS runs its own copy of an operating system and allows the owner to have super user-level access to the operating system instance.  This gives them the ability to install almost any software that runs on that OS.  For many purposes a VPS is functionally equivalent to a dedicated physical server, and since it is software defined, it can be created, configured and scaled more readily than a physical server.  A VPS is priced much lower than an equivalent physical server, but since it shares the underlying physical hardware with other VPSs, the performance will depend on the workload of other instances on the same hardware node.[1]
VPS adoption is commonly found when organizations need to refresh their server infrastructure or install a new application.  A VPS can be installed, maintained and supported more affordably than acquiring, installing and supporting a dedicated server.
VPS BENEFITS
COST
Bringing a VPS online shifts the cost of ownership from a capital expense (Capex) to an operational expense (Opex).   VPS providers customarily use either a utility service billing model (i.e. metered, pay as you go) or a flat monthly fee model.  In return for this fee, they assume the responsibility for absorbing ongoing maintenance costs as well as replacing aging or failed hardware.   A VPS offers the owner reduced capital outlays in return for a predictable monthly operating expense.
Either approach compares favorably to owning an infrastructure where the fixed costs (salaries, infrastructure, power, etc) are static regardless of usage.
RETAINED CONTROL
The exclusivity of a VPS allows organizations to leverage the cloud but retain control over their application software.  Maintaining control makes a VPS attractive to organizations with established IT departments who are looking to take advantage of the cloud.
MAINTENANCE
Outsourcing a VPS places the responsibility for monitoring, maintenance and support into the hands of the provider.  Since there are fewer physical servers onsite to manage, the labor cost required to maintain and patch these servers is reduced accordingly.
ALLOWS IT STAFF TO SHIFT FOCUS
The quick availability of VPS services frees up an organization's IT staff to focus their time and energy on applications and solutions that directly impact and add value to the organization.
DYNAMIC SCALING
A VPS uses a pool of ambiguous resources which can be easily added to or subtracted from.  A VPS provider will design the infrastructure to meet expected demands so the owner only pays for what's needed.  As needs change, the provider can easily adjust the cloud resources accordingly.
Dynamic scaling is one of the hallmarks of cloud computing.  Quickly scale up as demand increases and scale back when usage falls.  This flexibility adds enormous opportunities for optimizing utilization, resources and money.  Because of the size and scope of this shared infrastructure, the network being used has more built in security and redundancies than many organizations could afford on their own.
A VPS provides access to a highly redundant environment with extensive scalability options (processors, disk, RAM, internet bandwidth, software licensing) for a fraction of the cost of ownership.   It can also be brought online very quickly versus days or even weeks to get a new server procured, setup, loaded and tested.
ACCESS
As with all cloud models a VPS provides the ability to access data anytime, anywhere from any device with an internet connection.
BUSINESS CONTINUITY AND DISASTER RECOVERY
Most cloud providers will provide nightly data backups to an offsite location to protect against a service disruption in the event of a facility outage.   For an additional fee, they will typically offer additional backup versions if there's a need for a reduced Recovery Point Objective (RPO).
Adopting a VPS is worthy of consideration especially if the organization is planning to refresh its infrastructure or install a new application.   It may be a more affordable option than purchasing a dedicated server; however, an initial evaluation should be performed to document the business goals and what's involved in the transition.   To learn more about this evaluation, give us a call @ 501.801.6700.
[1] http://en.wikipedia.org/wiki/Virtual_private_server