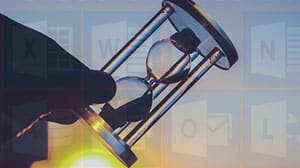 (January 26, 2023) With Microsoft ending support for Office 2013 on April 11, the company is urging its customers to upgrade from Office 2013 to a Microsoft 365 subscription or purchase a license for the standalone Office 2021 product. However, companies often put off upgrades in order to squeeze the last bit of functionality out of their existing software.
It's a pattern that has been repeated with every Office upgrade cycle going back to the release of Office 1.5 in 1991 — people are reluctant to switch from something familiar that seems to be working fine. They often assume that end-of-support just means they won't be able to call Microsoft for support, which they never need to do anyway.
The Risks of Running Office 2013
However, the truth is that running unsupported software can place your organization at great risk. End of support means that Microsoft won't fix bugs or release security patches for newly discovered vulnerabilities.
When security weaknesses and technical flaws are no longer patched or fixed, older software can be exploited by cybercriminals in many different ways. For proof, look no further than the global WannaCry ransomware attack in 2017, which almost exclusively affected computers that were still running Windows 7.
A widespread exploit could be possible once Microsoft stops issuing security updates and patches for Office 2013. Some of the last updates address various vulnerabilities that could put systems and data at risk.
Even if security weren't an issue, performance will be, and that could put your organization at a competitive disadvantage. With built-in intelligence and collaboration features, the latest versions of Office apps such as Word, Excel, and PowerPoint are smarter and more powerful than ever.
Benefits of the Subscription Model
Although Microsoft has enabled a couple of upgrade paths, the company clearly would prefer customers choose a subscription. With Office 2021 there are no upgrade options, so you have to purchase it again if you want to implement the next major release. Plus, Office 2021 will reach end of life on Oct. 13, 2026, giving you just three and a half years before you face another upgrade.
A Microsoft 365 subscription will provide a range of valuable features and allow your team to access files from anywhere. In addition to the essential productivity apps, all of the business versions of Microsoft 365 also include integrated cloud storage and more than 1,000 security and privacy controls. Most important, the subscription model ensures you're always running the most updated version, and the latest security updates are automatically installed as soon as they're rolled out.
Now's the Time to Get Started
For all of the subscription model's benefits, migration will be an adjustment for organizations accustomed to Microsoft's traditional volume licensing arrangements. There are more than a dozen different Business and Enterprise license bundles and choosing the right one can be difficult.
Buying the same license for every user can increase costs and hinder the productivity of key staff while giving other users more functionality than they need. An alternative approach is to assign different licenses to different personnel, which requires a thorough analysis of the existing environment and the requirements of each user.
If you don't have the time, expertise, or manpower for such a project, Mainstream can help. Our team of professionals can simplify the process and speed your transition to the applications you need for long-term stability.
Although an upgrade will be challenging, it should be considered a business requirement. The security and productivity risks of unsupported software are too great. Give Mainstream a call to get started as soon as possible.
ABOUT MAINSTREAM TECHNOLOGIES
Mainstream Technologies delivers a full range of technology services in Arkansas and the surrounding region including managed technology services and consulting, custom software development, and cybersecurity services. We also offer industry-leading data center services in our Little Rock facilities. Established in 1996, Mainstream has earned a reputation for delivering quality, reliable, and professional technology services for public and private-sector customers across the United States.
Jeff Pracht
IT Business Development Manager
(479) 715-8629 Office
(501) 529-0008 Mobile